Ka-Pow Coffee Bar
A caffeinated single origin chocolate-and-coffee bar by a Portland chocolatier is the perfect afternoon pick-me-up.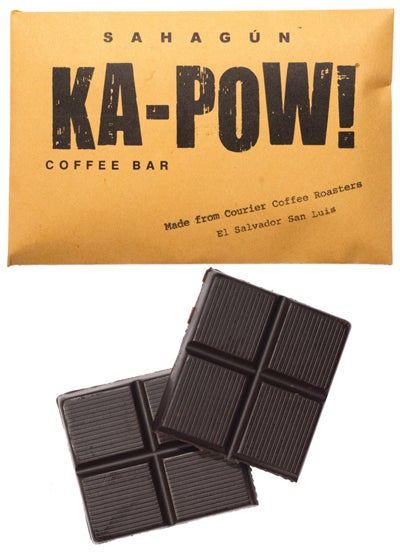 We may earn revenue from the products available on this page and participate in affiliate programs.
Ka-Pow's looks are deceiving: what appears at first glance to be the darkest of dark chocolate reveals itself, upon first bite, to have the bitter-floral-sweet-creamy balance of a perfect cup of coffee. That's because, well, it is a perfect cup of coffee: the "single-origin coffee bar," brainchild of Portland, Oregon-based chocolatier Elizabeth Montes, is made from finely ground coffee beans blended with cocoa butter and just a hint of sugar, with just enough coffee-grit texture to keep things interesting. Eaten all at once, Ka-Pow's eight squares pack as much caffeine as a cup of espresso—you could, if you were so inclined, replace your morning latte. I prefer to nibble away at it bit by bit: a square or two on a gray afternoon is exactly the perk-up I need to get through the rest of the day.
Ka-Pow Coffee Bar, $6 for a 25g bar at newyorkmouth.com