Seven Deadly Sins Chocolates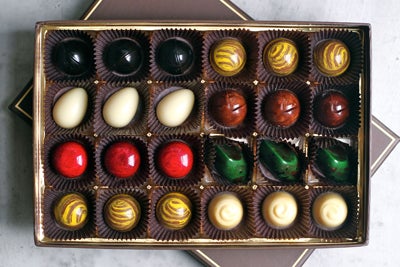 We may earn revenue from the products available on this page and participate in affiliate programs.
When you name a box of chocolates "Seven Deadly Sins," the gluttony jokes write themselves. But the exquisite pieces inside this 24-piece collection from New York espresso-and-chocolate bar FIKA are almost too beautiful to devour in the ravenous whirlwind that narrative convention might demand. The flavors are cleverly assigned to each sin: hot chili and passionfruit for lust, a vivid green cactus-lychee for envy, gold-flecked Champagne truffles for greed. Then there's gluttony: a perfect, just-salty-enough caramel inside a yellow-swirled chocolate shell. That one was my favorite, which worked out perfectly: most of the chocolates come in sets of three, but for the sin of overeating, FIKA thoughtfully gives you a double portion.
FIKA Seven Deadly Sins chocolates, $72 for a box of 24 at FIKAnyc.com