Recipes
Adriatic Eel Stew
Velvety seafood broth from the Italian Peninsula.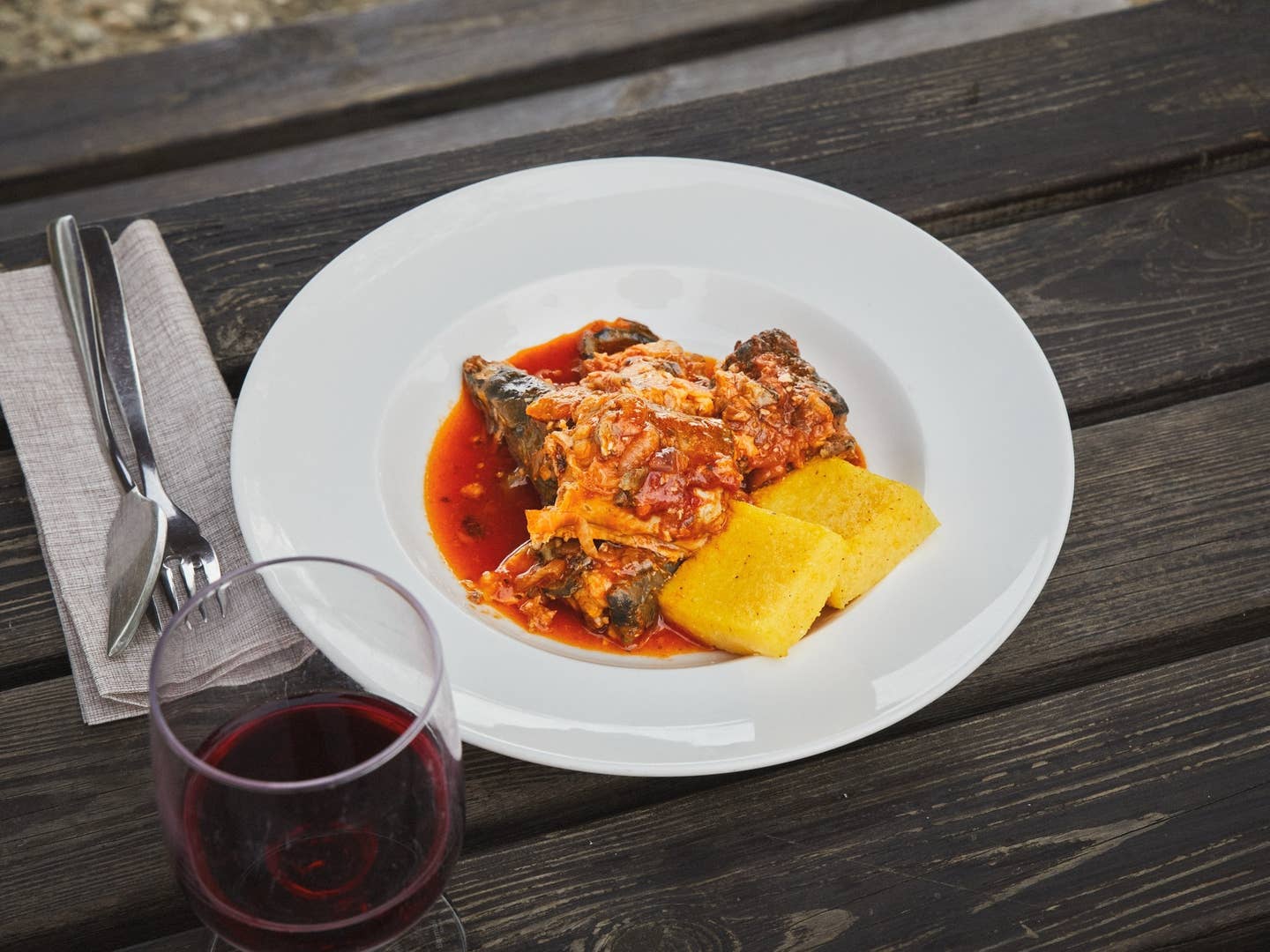 Eel is ideal for the stew called brodetto the gelatin in its skin helps make the broth velvety. Watch out for small bones, though.
Ingredients
1 (3 to 4-lb.) whole eel, cleaned, with head, 2'' of the tail, and the wings running along top and bottom removed
1 1⁄2 cups flour
3⁄4 cup vegetable oil
Fine sea salt
Freshly ground white pepper
3⁄4 cup red wine vinegar
3⁄4 cup extra-virgin olive oil
1 medium yellow onion, peeled and chopped
3 medium shallots, peeled and chopped
1⁄4 cup tomato paste
1 large bunch scallions, trimmed and chopped
Instructions
Step 1
Cut eel crosswise into 1 1⁄2''- to 2''-thick pieces. Dredge eel in flour, then shake off any excess. Heat vegetable oil in a large wide heavy pan over medium-high heat. Add eel in a single layer and cook until lightly browned, turning once, about 5 minutes per side. Season to taste with salt and pepper as it cooks. Transfer eel to paper towels to drain. Discard oil, then wipe out pan.
Step 2
Combine vinegar and 5 cups water in a medium pot and bring to a simmer over medium heat. Meanwhile, heat 1⁄4 cup olive oil in the same pan over medium-high heat. Add onions and cook, stirring often, until lightly browned, about 3 minutes. Add shallots and cook, stirring, until soft, about 1 minute. Stir in 1⁄2 cup vinegar-water, simmer briefly, then add tomato paste and cook, stirring and scraping up any brown bits stuck to the bottom of the pan, for about 1 minute more.
Step 3
Stir in 1 cup vinegar-water, bring to a boil, then arrange eel in sauce. Cook until eel easily pulls away from the bone, about 10 minutes, stirring the sauce, shaking the pan gently, and basting the eel as it cooks. Refresh sauce periodically with remaining vinegar-water and olive oil as it reduces and thickens. Halfway through, add scallions. Eel should be tender and sauce should be velvety and emulsified. Season to taste with salt and pepper. Serve with polenta, if you like.