Alice Medrich's House Truffles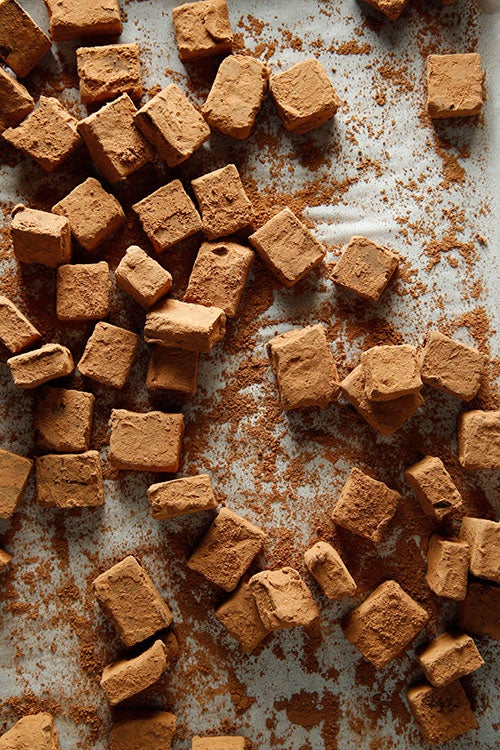 These truffles are enriched with egg yolks—Medrich's special touch.
Featured in: SAVEUR 100: Alice Medrich
Alice Medrich's House Truffles
"First Lady of Chocolate" Alice Medrich enriches her unparalleled chocolate truffles with egg yolks—they're positively sinful!
Yield:
makes 4 dozen truffles
Ingredients
1 lb. semisweet chocolate, coarsely chopped
10 tbsp. unsalted butter, cubed
1⁄8 tsp. salt
2 egg yolks, at room temperature
1⁄3 cup Dutch-process cocoa powder
Instructions
Line an 8″ x 8″ baking pan with foil; set aside. Melt chocolate, butter, and salt in a 2-qt. saucepan over low heat, stirring frequently until smooth, 8 to 10 minutes; transfer to food processor and set aside. Place the yolks in a bowl, and whisking constantly, slowly pour in 1⁄2 cup boiling water. Strain and add to chocolate mixture; puree until smooth. Spread evenly into prepared pan; chill until firm, about 1 hour.
Place cocoa powder in a bowl. Invert chocolate block onto cutting board; discard foil. Cut into 1″ squares, toss with powder, and arrange in a single layer on a parchment paper-lined baking sheet; chill until set, 10 to 15 minutes.