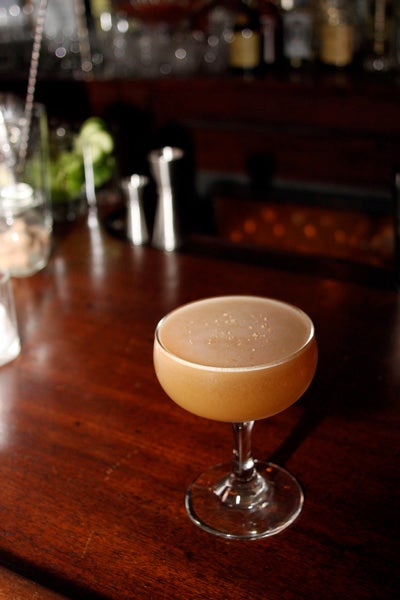 The inspiration for this drink was a cocktail called the Trinidad Especial, which includes a full ounce of Angostura bitters. Boelte wondered, "How can I do something like this in the German-Austrian tradition, to reflect the menu at Prime Meats?" The answer: Asbach Uralt, a long-aged, full-bodied German brandy, and Underberg bitters, a German digestif that comes in adorable .75-oz bottles. Boelte has a friend who makes a delicious toasted orgeat syrup, but any orgeat will bring a floral fragrance and nutty almond quality to this warming combination of spice, sweetness, and toasty depth. Read the article on how Damon Boelte, bar director at Prime Meats, New York, uses nutmeg: Nutmeg Cocktails for the Holidays
Alpine Sour
The inspiration for this drink was a cocktail called the Trinidad Especial, which includes a full ounce of Angostura bitters. Boelte wondered, "How can I do something like this in the German-Austrian tradition, to reflect the menu at Prime Meats?" The answer: Asbach Uralt, a long-aged, full-bodied German brandy, and Underberg bitters, a German digestif that comes in adorable .75-oz bottles. Boelte has a friend who makes a delicious toasted orgeat syrup, but any orgeat will bring a floral fragrance and nutty almond quality to this warming combination of spice, sweetness, and toasty depth.
Ingredients
1 lemon
1 oz. Asbach Uralt
1 oz. orgeat
1 bottle Underberg bitters (about .75 oz)
Grated nutmeg
Instructions
Shake all ingredients and strain into a coupe. Top with grated nutmeg.