Recipes
Indonesian Beef Rendang
This luscious dish is traditionally eaten with white rice, but it is also wonderful with crusty bread.
Serves

serves 6

Cook

4 hours 15 minutes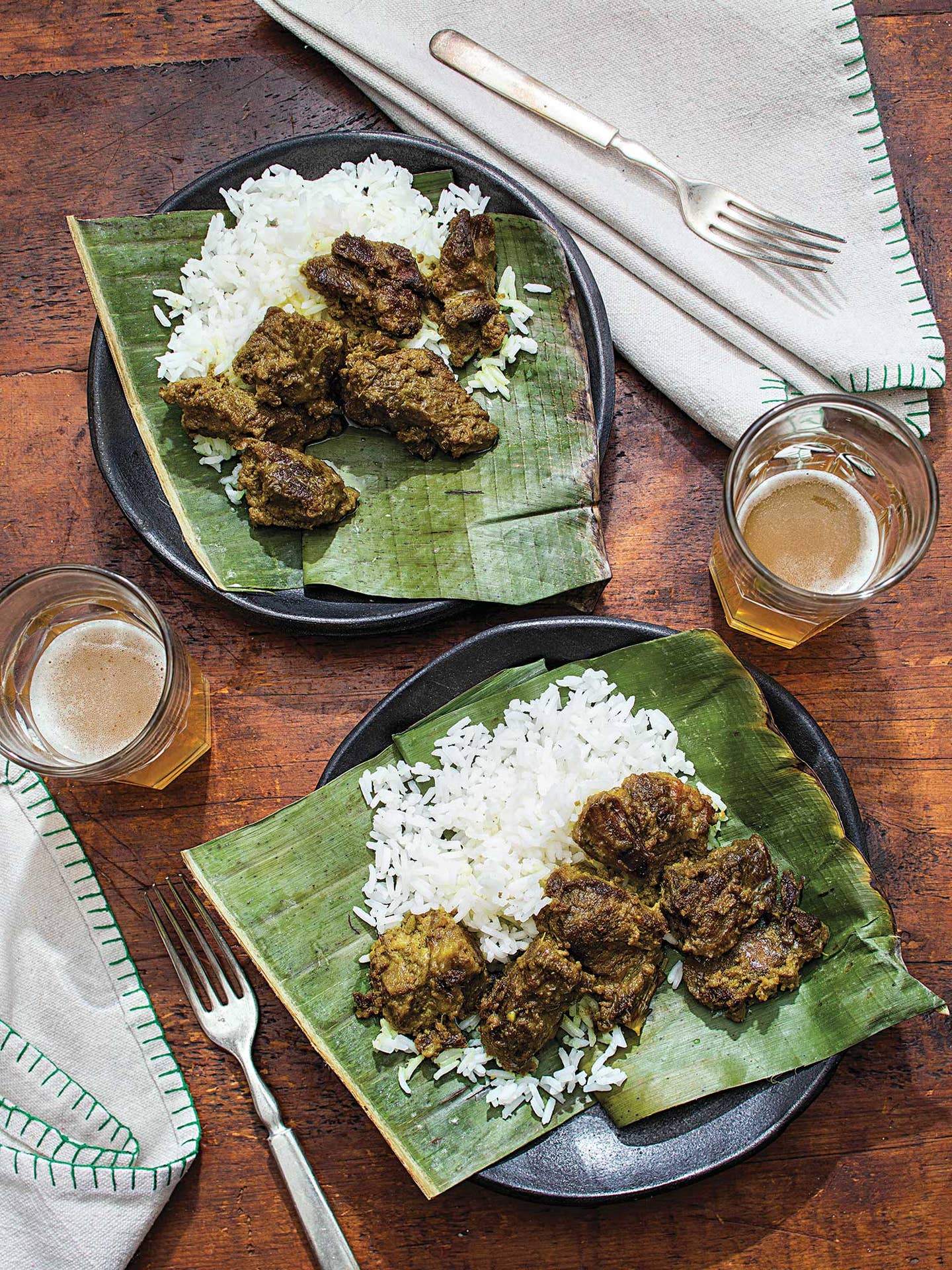 James Oseland first tasted Beef Rendang as a 19-year-old American backpacking through Indonesia in the early 1980s. Thirty-one years later, as editor-in-chief of this magazine, he recalled those first few bites of the thick, slow-cooked stew in an essay for the May 2013 issue: "The glistening meat, fall-apart tender, was coated with a thick sauce of such complexity that I was at first taken aback—and, a moment later, smitten." A specialty of the Indonesian province of West Sumatra, the dish involves ever-so-slowly cooking beef (water buffalo, traditionally, but cubed chuck works too) in a coconut-milk sauce before searing. Oseland, who lived in West Sumatra for a year in the late '90s, learned to make the dish from a home cook there named Ibu Rohati. "She was so proud," he recalls. "We had such a joyous time in her deliciously aromatic kitchen that day."
Ingredients
5 medium shallots, chopped (about 1¼ cups)
4 medium garlic cloves, minced (about 1 Tbsp. plus 1 tsp.)
1 2-in. piece fresh or frozen-and-thawed galangal, peeled and finely chopped (about 2 Tbsp.)
1 2-in. piece fresh ginger, peeled and finely chopped (about 2 Tbsp.)
1 ½-in. piece fresh or frozen-and-thawed turmeric, peeled and finely chopped (about 1½ tsp.)
3 candlenuts, toasted and ground (about 1 Tbsp.)
2 tsp. freshly grated nutmeg
Kosher salt
2 lb. well-marbled boneless beef chuck, cut into 1½-in. pieces
2 stalks fresh lemongrass
2 1⁄2 cups unsweetened coconut milk
6 makrut lime leaves
5 fresh curry leaves
Banana leaves, for serving (optional)
4-6 cups steamed, long-grain white rice, for serving (optional)
Instructions
Step 1
Using a large mortar and pestle, grind together the first 7 ingredients, plus a pinch of salt, to yield a mostly smooth paste. In a large bowl, toss the paste with the beef, and set aside to marinate for 1 hour.
Step 2
Meanwhile, using the dull side of a cleaver or a large chef's knife, bruise the lemongrass to soften; tie each stalk into a knot.
Step 3
In a wok or large pot over medium heat, bring the coconut milk to a simmer, then add the meat and marinade, the lemongrass knots, and the lime and curry leaves. Bring to a boil, then lower the heat to medium-low and cook, stirring occasionally, until the liquid reduces to a thick sauce and the beef begins to sizzle and fry, about 1½ hours. Continue cooking, stirring frequently, until the meat browns, about 30 minutes more. Remove the lime and curry leaves, and lemongrass just before serving, at room temperature, atop banana leaves with steamed white rice on the side, if desired.