Black's Oyster Dipping Sauce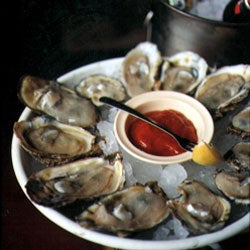 We picked up the recipe for this simple but lively sauce during our quest for authentic Acadian cooking in South Louisiana. It came from Black's Oyster Bar, a local favorite, and makes a great accompaniment to raw or steamed oysters.
Yield: makes 1/4 Cup
Ingredients
Juice of 1⁄2 lemon
1 tsp. horseradish
4 squirts worcestershire sauce
1 1⁄2 tbsp. ketchup
1 tbsp. Cajun Power Garlic Sauce
Instructions
Combine lemon juice, horseradish, worcestershire sauce, ketchup, and garlic sauce in a small bowl.