Boiled Beets with Tarragon Butter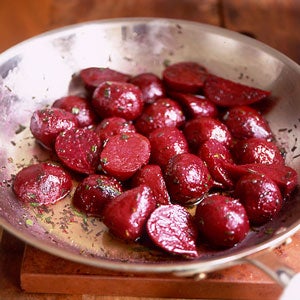 Fresh dill or mint may be substituted for tarragon.
Yield: serves 4
Ingredients
12 medium beets
3 tbsp. butter
2 tbsp. chopped fresh tarragon
Salt and freshly ground black pepper
Instructions
Trim all but 2″ of stalks off the beets. Put beets into a medium pot, cover with water, and boil until soft, 45-60 minutes. Drain, pull off stalks, slip off skins, and halve.
Put beets, butter, and tarragon into a skillet; heat over medium heat until warmed through. Season to taste with salt and pepper.