Boiled Beets with Tarragon Butter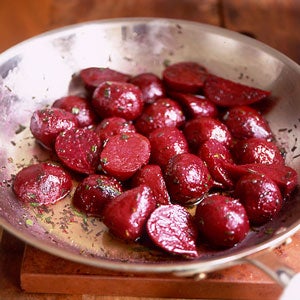 Fresh dill or mint may be substituted for tarragon.
Boiled Beets with Tarragon Butter
This recipe can also be made with fresh dill or mint adding a flavorful twist.
Ingredients
12 medium beets
3 tbsp. butter
2 tbsp. chopped fresh tarragon
Salt and freshly ground black pepper
Instructions
Trim all but 2″ of stalks off the beets. Put beets into a medium pot, cover with water, and boil until soft, 45-60 minutes. Drain, pull off stalks, slip off skins, and halve.
Put beets, butter, and tarragon into a skillet; heat over medium heat until warmed through. Season to taste with salt and pepper.