Recipes
Sweet Potato Casserole with Bourbon and Pineapple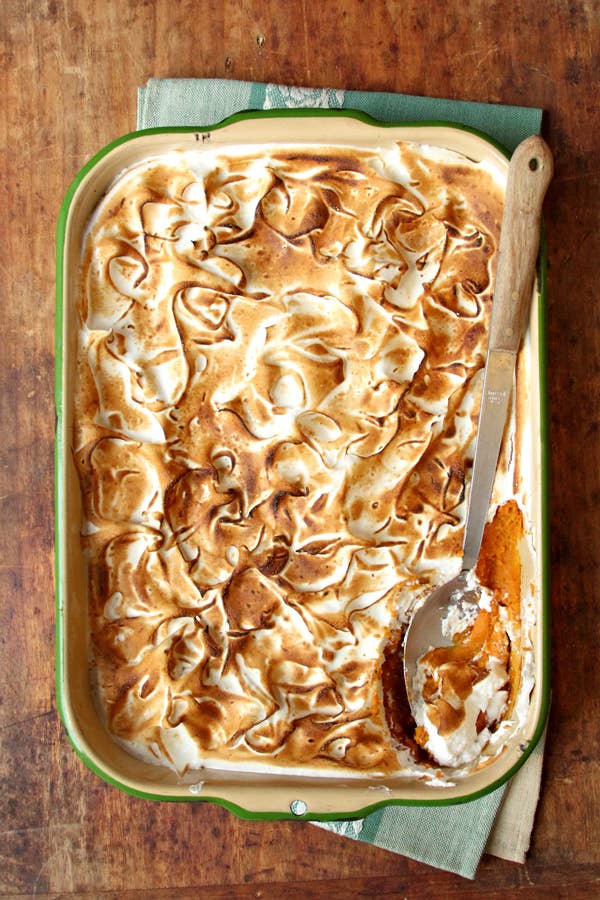 A variation of traditional sweet potato casserole this side gets its depth of flavor from bourbon and pineapple. This recipe first appeared in our November 2012 issue along with Bernard L. Herman's story A Bountiful Shore.
Ingredients
5 1⁄2 lb. sweet potatoes
1⁄2 cup dark brown sugar
1⁄4 cup bourbon
4 tbsp. unsalted butter, melted
1 1⁄2 tsp. kosher salt
1 tsp. ground cinnamon
1 tsp. ground ginger
1⁄2 tsp. ground allspice
1⁄2 tsp. freshly grated nutmeg
1⁄2 tsp. ground black pepper
2 eggs
1 (8-oz.) can crushed pineapple
1 cup sugar
1 tsp. vanilla extract
4 egg whites
Instructions
Step 1
Heat oven to 350°. Place potatoes on a foil-lined baking sheet; bake until tender, about 1 1⁄2 hours. Peel and transfer to a food processor along with brown sugar, bourbon, butter, 1 tsp. salt, cinnamon, ginger, allspice, nutmeg, pepper, eggs, and pineapple; puree. Transfer to a 9" x 13" baking dish; bake until heated through, about 25 minutes.
Step 2
While casserole bakes, bring sugar, and 1⁄4 cup water to a boil in a 1-qt. saucepan over high heat; attach a candy thermometer to the side of the pan, and cook, without stirring, until syrup reaches 250°. Meanwhile, place remaining salt, vanilla, and egg whites in a large bowl; beat on medium-high speed of a hand mixer until soft peaks form. While beating, slowly drizzle in hot syrup, and beat until meringue is thickened and cooled.
Step 3
Heat broiler to high. Spread meringue over casserole; broil until lightly browned, about 2 minutes.