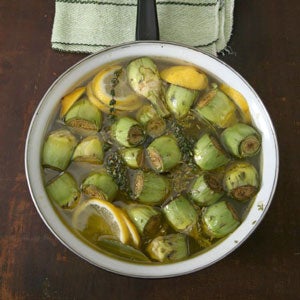 These herbed baby artichokes are delicious on their own or as a component of dozens of other dishes, from pizzas and pastas to salads and frittatas. Once you've braised the artichokes, they keep very well in the refrigerator for up to three days, so you can use them in several meals. This recipe appeared in David Plotnikoff's "Tender at the Heart" (March 2009). See the step-by-step guide »
Braised Artichokes
These herbed baby artichokes are delicious on their own or as a component of dozens of other dishes, from pizzas and pastas to salads and frittatas.
Ingredients
1 lemon, thinly sliced crosswise into rounds
20 baby artichokes (about 21⁄2 lbs.)
1⁄3 cup extra-virgin olive oil
3 tbsp. dry vermouth
1 tbsp. kosher salt
1 tsp. freshly ground black pepper
1 tsp. fennel seeds
3 sprigs thyme
2 bay leaves
Instructions
Fill a 3-qt. high-sided skillet with 6 cups water and add lemon slices. Trim away tough outer leaves of the artichokes to expose their tender, pale green interior. (For illustrated, step-by-step instructions, see Trimming Baby Artichokes.) Add trimmed artichokes to the skillet.
Add the oil, vermouth, salt, pepper, fennel seeds, thyme, and bay leaves. Cover the skillet and bring liquid to a boil over high heat. Reduce heat to medium and simmer the artichokes until tender, 30–40 minutes. Serve artichokes at once or cover and refrigerate for up to 3 days.