Broiled Spaghetti Squash with Walnut-Miso Glaze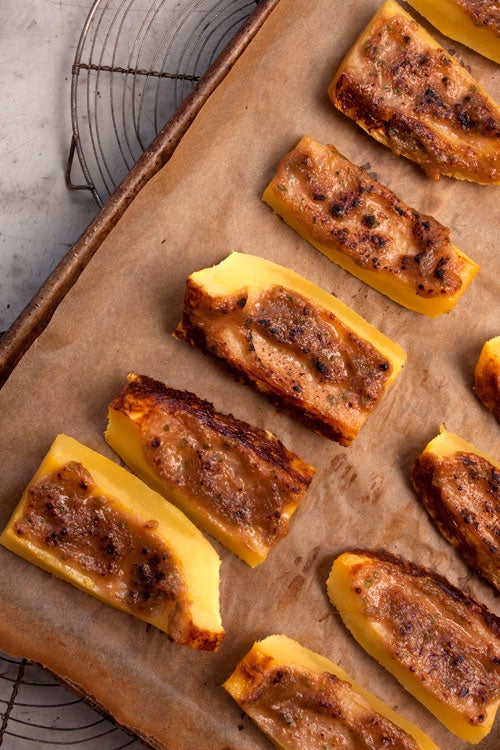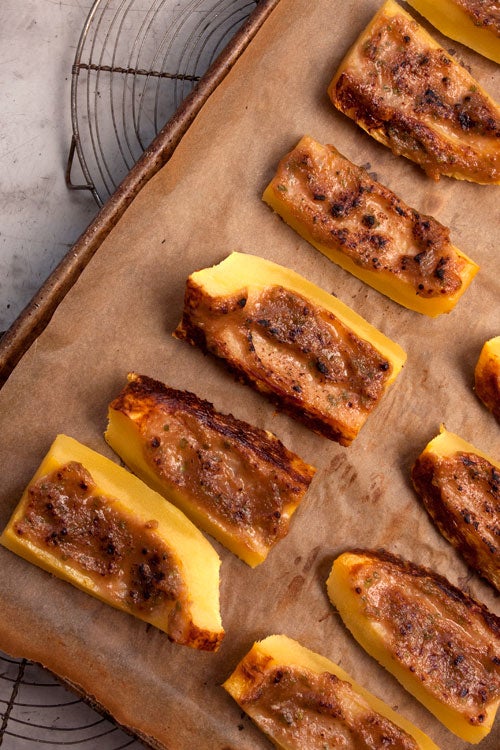 It's rare that we encounter spaghetti squash not shredded into its eponymous noodle-like threads. But kept intact, it reveals a beautifully yielding texture and a savory, subtle flavor that's perfectly offset by a rich walnut-miso glaze.
Broiled Spaghetti Squash with Walnut-Miso Glaze
These roasted squash wedges—with their nutty, savory topping—make a lovely autumn side dish or a nice light vegan lunch, served with a green salad.
Ingredients
1 small spaghetti squash, halved and seeded
2 tbsp. vegetable oil
1⁄4 cup walnuts
1⁄4 cup white miso paste
2 tbsp. brown sugar
3 tbsp. mirin
2 scallions, minced, plus more for garnish
1⁄4 tsp. crushed red chile flakes
Kosher salt, to taste
Instructions
Heat oven to 350°. Brush insides of squash with oil, place cut-side-down on baking sheet and bake until almost tender, about 50 minutes. Let cool slightly and remove skin. Cut into 2″ x 4″ squares, return to baking sheet; set aside.
Heat oven broiler. Pulse walnuts in food processor until finely ground. Add miso paste, brown sugar, mirin, minced scallions, chile flakes, and salt, and pulse into a thick paste. Spread over squash and broil until tops are lightly browned, about 3 minutes. Serve sprinkled with additional salt, and sliced scallions.