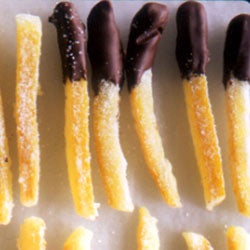 Marie Tymstra, author Margo True's aunt, preferred California navels for this recipe.
Candied Orange Peels
These chocolate-dipped, blanched and sugared strips are a tasty fate for otherwise discarded orange peels.
Yield:
makes 40-50 strips
Ingredients
3 navel oranges
1 cup sugar
Instructions
Trim 1⁄2" off ends of navel oranges, then make a slit in rinds and scoop out flesh. Slice peels into 1⁄3-inch-wide strips, put in a bowl, cover with water, and refrigerate overnight. Transfer strips to a medium pot, cover with water, and bring to a boil over medium heat. Drain strips and set aside. In same pot bring sugar and 1⁄2 cup water to a boil until sugar dissolves. Add strips. Simmer until soft and glazed, about 30 minutes. Dry strips on a rack until tacky. Roll in sugar and dip ends in melted chocolate, if you like.