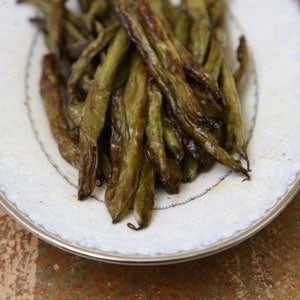 This recipe is borrowed from cookbook author Anne Willan, who developed it at her cooking school, La Varenne, in Burgundy, France. Willan calls them "burnt beans" in her book_ From My Chateau Kitchen_ (Clarkson Potter, 2000), noting that they are "a revelation to those familiar only with crisp beans".
Yield: serves 4-6
Ingredients
1 stick (8 tbsp.) unsalted, cultured butter (like Lescure Beurre des Charentes)
1 1⁄2 lb. green beans, trimmed
Kosher salt and freshly ground black pepper
Instructions
Melt butter in a large skillet over medium-low heat. Add green beans and season lightly with salt and pepper to taste.
Cook beans, turning often with tongs, until they are caramelized, about 45 minutes. Taste and season, if necessary, with salt and pepper.
Using a slotted spoon, transfer the beans to a serving platter. Pour the butter and pan juices over the beans and serve promptly.