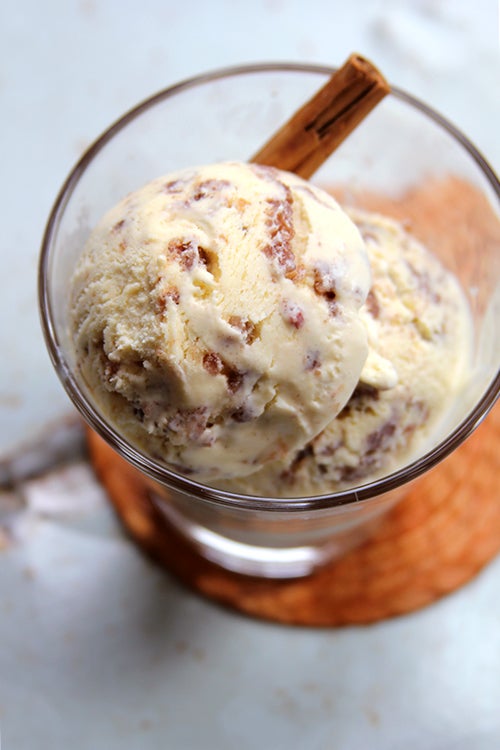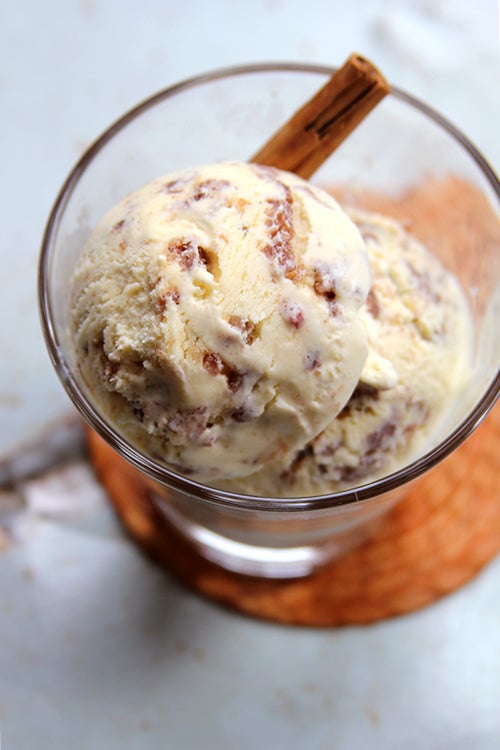 Buttery cinnamon-sugar crumbles swirled into a creamy base are reminiscent of cinnamon toast.
Yield: makes about 1 quart
Ingredients
1 1⁄2 cups sugar
1 1⁄2 tsp. ground cinnamon
4 tbsp. unsalted butter, melted
2 cups half & half
1 (2″) cinnamon stick, broken in half
Pinch kosher salt
6 egg yolks
1 cup heavy cream
1⁄2 tsp. vanilla
Instructions
Heat oven to 350°. Combine 3⁄4 cup sugar, ground cinnamon, and butter in a bowl. Spread sugar mixture evenly on a silicone-lined baking sheet. Bake until crisp, about 15 minutes; let cool completely. Break into small pieces; set aside.
Bring half & half, cinnamon stick, and salt to a boil in a 4-qt. saucepan over medium-high heat. Remove from heat and let steep for 20 minutes; strain into a bowl and set aside. Whisk remaining sugar and yolks in until smooth. Slowly whisk in half & half mixture and cream. Return to saucepan over medium heat and cook until mixture thickens and coats the back of a wooden spoon, about 20 minutes. Stir in vanilla until combined; cover with plastic wrap, pressing it against the surface of the custard. Chill custard completely.
Pour custard into an ice cream maker and process according to manufacturer's instructions until churned and thick. Transfer ice cream to a bowl and fold in cinnamon sugar mixture. Transfer to an airtight storage container; freeze until set, at least 4 hours.