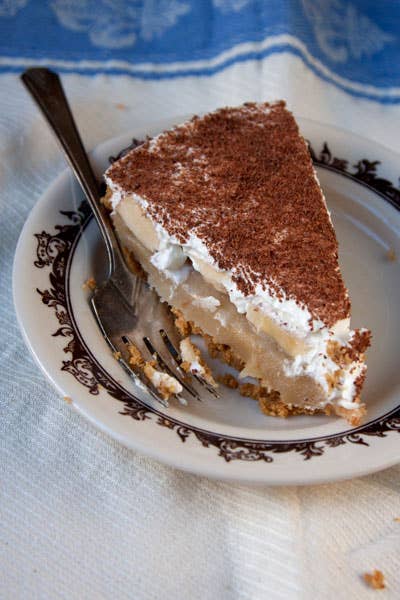 In Britain, banoffee pie (Recipe: Banoffee Pie) is a dessert that has achieved the status of national treasure. Which means, of course, that everyone has an opinion on how it should be made. Crushed cracker base or pastry? Whipped cream, then bananas—or the other way around? Plain or topped with shaved chocolate?
Regardless of how it's made, this no-bake pie is one of the easiest—and tastiest—desserts from the British pantry. Banoffee pie was invented in the 1970s at a pub on the south coast of England called the Hungry Monk. Though there have been many variations since, each version always includes a dense layer of blond caramel, topped with sliced bananas and cool whipped cream.
But that's where the similarities end. Some say banoffee should be made with short-crust pastry, but I think a simple crumb base made of crushed McVities digestive biscuits, with their hint of salt, perfectly counteracts the sweetness of the filling.
I believe another secret to success is using a good, old-fashioned tin of Carnation condensed milk for the caramel. Classic recipes suggest boiling the unopened can of condensed milk in a pan of water for a few hours to turn its contents into gooey caramel. If you decide to try this, take care not to let the pan boil dry, as the last thing you want is an exploding can! For excellent results without the added danger, this recipe blends the condensed milk with a caramel of light brown sugar and melted butter.
And a final word of caution: under no circumstances should you sweeten the whipped cream, unless you want complete sugar overload.
Banoffee pie keeps quite well. The whipped cream seals the bananas in so they don't turn brown, while the flavors all meld perfectly so that the inevitable second helping tastes just as good as the first.