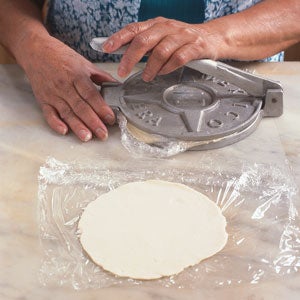 You may cook these tortillas (then turn them into crispy taco shells or tortilla chips) or fry them as puffy taco shells. See our guide to using homemade tortillas »
Corn Tortillas
You may cook these tortillas (then turn them into crispy taco shells or tortilla chips) or fry them as puffy taco shells.
Yield:
makes 10 5 1/2″ TORTILLAS
Ingredients
Instructions
Put masa harina into a medium bowl. Add 1 1⁄4 cups warm water and stir until a dough forms. Turn out onto a work surface and knead until smooth.
Divide dough into 10 balls. Drape plastic wrap over base of a tortilla press. Put 1 dough ball at a time in center of press, cover with plastic wrap, and close press to flatten into a 5 1⁄2" disk. (Alternatively, put dough between 2 pieces of plastic and roll out with a rolling pin.) Set plastic-covered tortillas aside as made. Or, for puffy taco shells, divide dough into 8 balls and press out as above into 4 1⁄2" disks. To cook tortillas, see techniques in All About Tortillas.