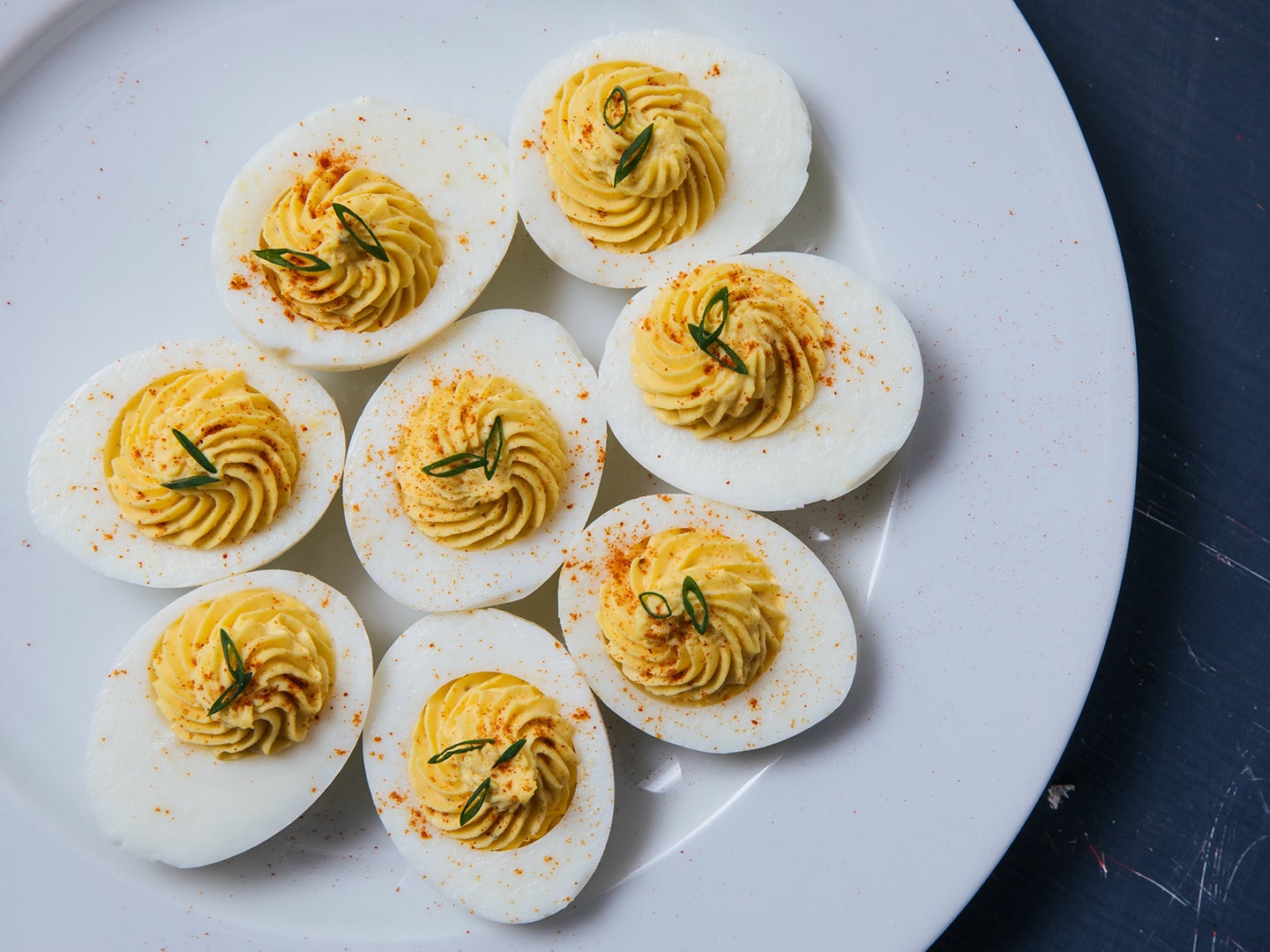 Deviled foods get their name from the fact that they benefit from the addition of an assertive ingredient, such as horseradish or chiles or, in the case of these deviled eggs, mustard and vinegar. Serve these crowd-pleasing hors d'oeuvres along with your Easter or Thanksgiving meal, or at any cocktail party.
What You Will Need
Deviled Eggs
A splash of apple cider vinegar and a knob of butter add richness and depth of flavor to these classic hors d'oeuvres.
Ingredients
8 eggs
3 Tbsp. mayonnaise
1 Tbsp. apple cider vinegar
1 Tbsp. unsalted butter, melted
2 tsp. yellow mustard
2 tsp. sugar
Kosher salt and freshly ground black pepper
Thinly sliced scallions or minced chives, for serving
Paprika, for serving
Instructions
Put eggs into a small pot; cover with water by 2 inches. Bring to a boil, cover, and remove from heat. Let stand for 8 minutes, drain, and run eggs under cold water to chill. Gently peel eggs and halve each lengthwise. Remove yolk from each egg half and transfer to a large bowl.
Arrange whites on a large platter, cover, and refrigerate. Mash yolks well with a fork, then add mayonnaise, vinegar, butter, mustard, and sugar. Season with salt and pepper to taste. Stir the egg yolk mixture until smooth. Using a small spoon, fill each egg white half with a rounded dollop of the egg yolk mixture. Alternatively, use a spatula to transfer the filling to a piping bag fitted with a 1⁄2-inch round or fluted tip; pipe a dollop into each egg white half. Loosely cover deviled eggs with plastic wrap and refrigerate until chilled. When ready to serve, sprinkle the eggs with scallions and paprika.