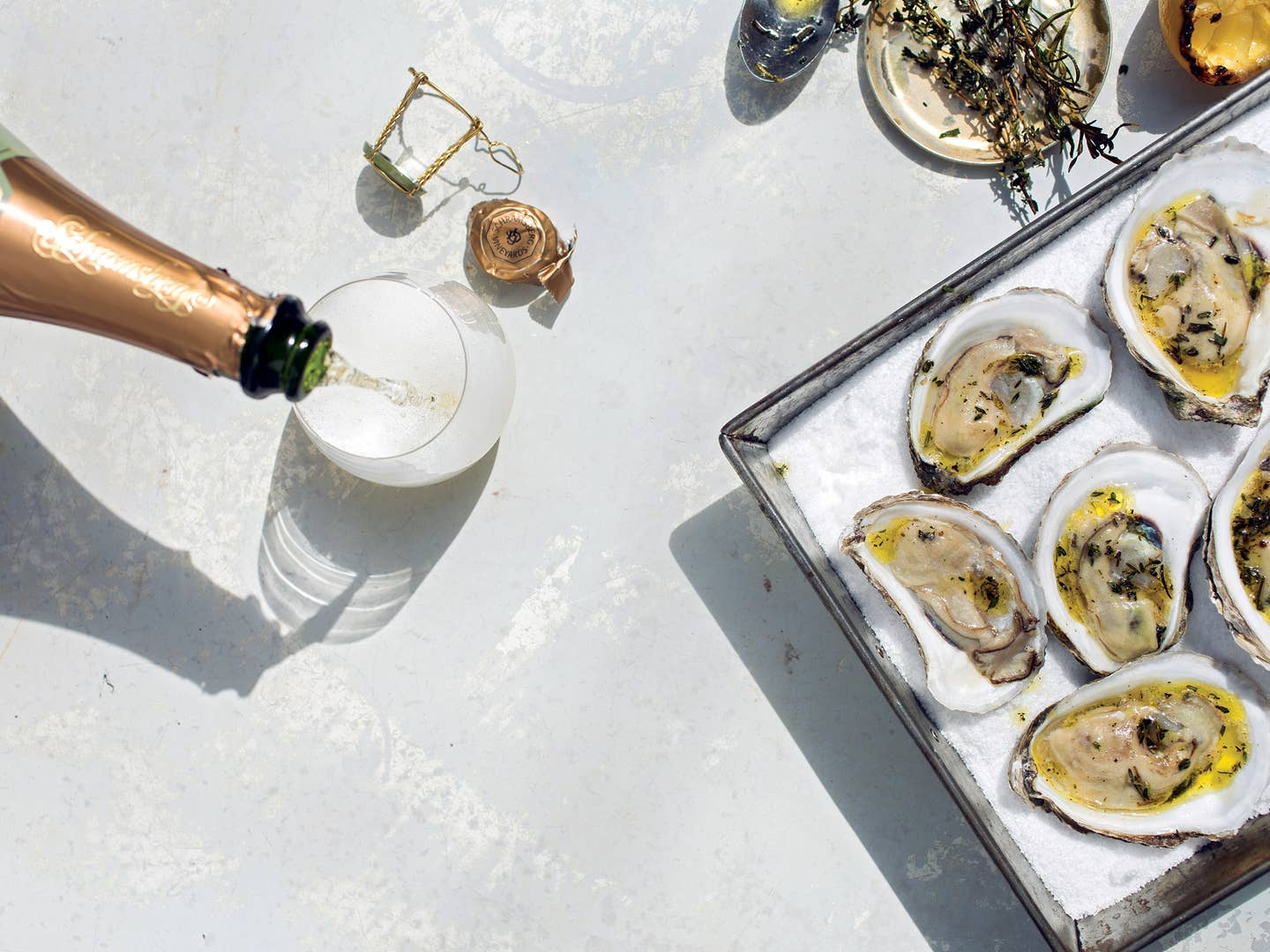 Recipes
Our 50 Best Hors d'Oeuvres Recipes
This heaping helping of hors d'oeuvres ideas runs the gamut, from sophisticated appetizers to small-bite bar snacks.
There is no more perfect one-bite hors d'oeuvre than the one nature provides: Oysters come in their own individual serving dishes, for heaven's sake. And while delicious unadorned, they'll also agreeably accommodate most any flavor, from piping hot parmesan and sausage to a cool citrusy mignonette. Equal parts upscale splurge and seafood-shack casual, oysters have the appetizer concept nailed. Which is why our roundup of hors d'oeuvre recipes includes no fewer than five different ways to zhuzh up these briney bivalves.
If only everybody loved shellfish.
Or you could pair vegetable pakoras from India with an assortment of spicy chutneys, stud Italian focaccia with red and green grapes, and top Russian blinis with smoked trout or caviar.
Peruse our guide to the globe's best hors d'oeuvres recipes, and you might just find yourself wondering: Who really needs a main course, anyway?
Grilled Oysters on a Bed of Salt
Broiled Oysters with Parmigiano and 'Nduja
Olive-Oil Poached Green Almonds with Dill
Fried Stuffed Castelvetrano Olives
Raw Oysters with Lemon Oil and Urfa Biber
Abruzzo-Style Grape Focaccia
Greek Stuffed Grape Leaves With Rice and Herbs (Dolmadakia)
Chickpea Fritters with Coconut Chutney
Smoked Trout Blinis with Crème Fraîche and Dill
Fennel Seed Taralli (Italian Olive Oil Crackers)
Virginia Ham and White Cheddar Croquettes
Homemade Jalapeño Poppers
Goat Cheese Crostini with Fig-Olive Tapenade
Smoked Bluefish Pâté with Hardtack Crackers
Marinated Anchovies with Candied Citrus, Pickled Raisins, and Chile
Roasted Tomato and Grape Toasts with Fava Bean Puree
Roasted Garlic and Sweet Potato Crostini
Zucchini and Feta Fritters
Eggplant Rolls (Nigvziani Badrijani)
Indian Vegetable Fritters (Pakoras)
Spiced Ground Beef Patties (Shami Kebabs)
Pigeon Pea Fritters with Yogurt-Tomato Sauce (Vadai Pachadi)
Cured Salmon with Thin Pancakes (Gravlax with Blinis)
Shrimp and Rosemary Crostini
Stuffed Pepperoncini with Smoked Salmon
Smoked Salmon with Cream Cheese, Capers, and Red Onion
Toast with Roasted Beet Dip, Smoked Salmon, and Watercress
Pan-Fried Salt Cod Chips (Fritas de Bacalhau)
Smoked Salmon with Fromage Blanc, Chives, and Pickled Celery
Shallot and Pancetta Tortilla Crisps
Robiola-Stuffed Figs with Pomegranate
Saganaki Bites with Sun Dried Tomato Tapenade
Broccoli Rabe, Cannellini Bean, and Ricotta Crostini
Broiled Oysters with Spinach and Brown Butter Hollandaise
Pigs in a Blanket with Herbed Mustard Dipping Sauce
French Piped Potatoes (Pommes Duchesse)
Swiss Fondue Fritters (Malakoffs)