East Hampton Corn Pudding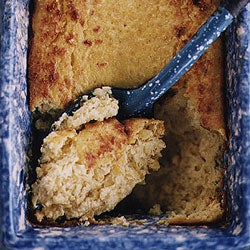 This recipe is adapted from The Neighborhood House Cookbook, compiled by East Hampton's Women's Service Club, a "small group of ladies still carrying on the tradition of old-fashioned, home-cooked covered dish suppers."
East Hampton Corn Pudding
This pudding is a delicious way to showcase East Hampton's fabled sweet corn.
Ingredients
5 ears of corn
2 tsp. sugar
3 eggs
2 cups half-and-half
2 tbsp. melted butter
1 pinch nutmeg
Salt and pepper
Instructions
Preheat oven to 350°. Remove and reserve corn kernels, discarding cobs. Put half the corn in a blender or food processor; set aside remaining corn.
Add sugar, eggs half-and-half, butter, nutmeg, and salt and pepper to blender. Process for 1–2 minutes, then pour into a greased 5″ × 9″ loaf pan. Gently mix in the remaining corn, and bake until golden and a toothpick inserted in the middle of the pudding comes out clean, about 1 hour.