Eggplant Pomegranate Relish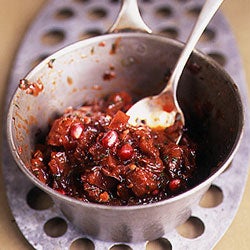 Yield: makes About 3 Cups
Ingredients
1⁄3 cup extra-virgin olive oil
1 large eggplant, cubed
1 red onion, peeled and chopped
6 cloves garlic, peeled and minced
1 (2″) piece ginger, peeled and minced
1 cup tomato juice
1⁄3 cup pomegranate molasses
1 tsp. cayenne
Salt and freshly ground black pepper
1⁄2 cup chopped fresh mint leaves
1 small pomegranate, seeded (optional)
Instructions
Heat oil in a large skillet over high heat until hot. Add eggplant and cook, stirring often, until soft, 5–10 minutes.
Reduce heat to medium, add onions and cook, stirring often, until slightly softened, 2–3 minutes. Add garlic and ginger and cook until fragrant, 1 minute.
Add tomato juice, pomegranate molasses, and cayenne, and season to taste with salt and pepper. Stir to loosen brown bits on bottom of skillet. Bring mixture just to a boil, reduce heat to low, and simmer, stirring often, until thickened, about 5 minutes. Remove from heat and stir in mint and, if using, pomegranate seeds. Adjust seasonings.