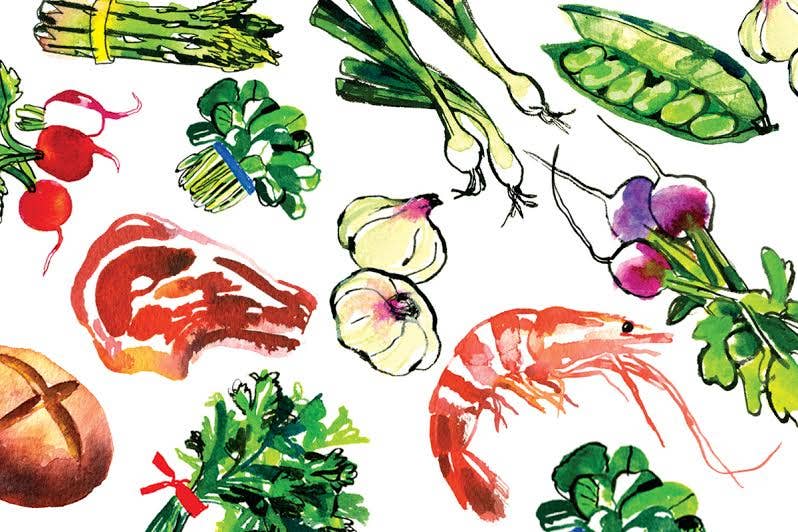 Recipes
Fried Cooleeney Cheese with Beet Salad
This is our adaptation of a dish we sampled in Ireland, near the town of Ballinderry. It's based on a mold-ripened soft cheese from County Tipperary called Cooleeney. Camembert would make an inexact but usable substitute.
FOR THE BEETS:
3 medium beets (1 lb.), trimmed
Salt
1⁄4 cup extra-virgin olive oil
2 tbsp. balsamic vinegar
Salt and freshly ground black pepper
FOR THE CHUTNEY:
3 1⁄2 cups drained assorted canned fruit (pineapple, peaches, and apricots), chopped
1 small yellow onion, peeled and finely chopped
1 cup white wine vinegar
1⁄2 cup sugar
1⁄4 cup black raisins
1⁄4 cup golden raisins
1 tsp. curry powder
1 tsp. pickling spice
1 tsp. sweet Asian chili sauce
FOR THE CABBAGE:
1 cup red wine vinegar
1 cup sugar
1⁄2 small head red cabbage, cored and thinly sliced (4 cups)
1" piece ginger, peeled and minced
2 cloves garlic, peeled and minced
Pinch freshly ground black pepper
FOR THE CHEESE:
2 eggs, lightly beaten
1 1⁄2 cups dry bread crumbs
3 4" wheels Cooleeney or camembert, quartered
Canola oil
1 small head green leaf lettuce, trimmed and chopped
Fronds from one fennel bulb
1 small red onion, peeled and thinly sliced
1. For the beets: Put beets into a medium pot, cover with salted water, and bring to a boil over high heat. Reduce heat to medium-low and simmer until tender, 1 1/2-2 hours. Remove beets from pot, let cool slightly, then peel and cut into 1" chunks. Toss beets, oil, vinegar, and salt and pepper to taste in a bowl.
2. For the chutney: Combine fruit, onions, vinegar, sugar, raisins, curry, pickling spice, and chili sauce in a nonreactive medium pot; bring to a boil over medium-high heat. Reduce heat to medium-low and simmer until fruit is very tender and chutney is thick and shiny, about 1 hour. Set aside to let cool.
3. For the cabbage: Combine vinegar, sugar, cabbage, ginger, garlic, and pepper in a nonreactive medium pot. Bring to a boil over high heat. Reduce heat to medium-low; simmer until liquid is thick and cabbage is tender, 40-45 minutes.
4. For the cheese: Put eggs and bread crumbs into separate shallow bowls. Coat cheese in eggs, then dredge in the crumbs. Chill cheese on a plate in the refrigerator for 1 hour. Pour oil into a medium pot to a depth of 2" and heat over medium heat until temperature registers 350° on a candy thermometer. Working in batches, fry cheese until golden, 2-3 minutes. Drain on paper towels.
5. Arrange lettuce and fennel fronds, beets, and cheese in piles on each of six plates. Top greens with cabbage and onions. Spoon chutney over cheese.