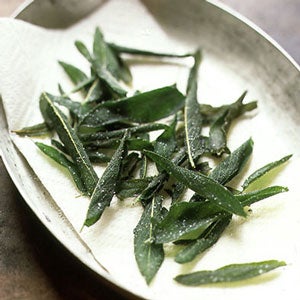 Delicate, crunchy fried sage can be crushed and sprinkled on squash or bean soups, served as an accompaniment to burgers, and even eaten whole as a snack. Margo True paid homage to sage in "Power" (November 2001).
Equipment
Yield: makes about 30 fried leaves
Ingredients
1 bunch fresh sage
1⁄4 cup olive oil
Coarse salt
Instructions
Pinch off leaves from sage. Heat oil in a small skillet over medium-high heat until hot.
Fry 6–8 sage leaves at a time until crisp, 2–3 seconds. Transfer with a fork to paper towels and sprinkle generously with coarse salt.