Recipes
Italian Bean and Vegetable Soup (Zuppa alla Frantoiana)
If you're looking to make all the vegetables in your fridge scompare—disappear—toss them into this delicate, slow-cooked Tuscan soup.
Serves

serves 6-8

Cook

3 hours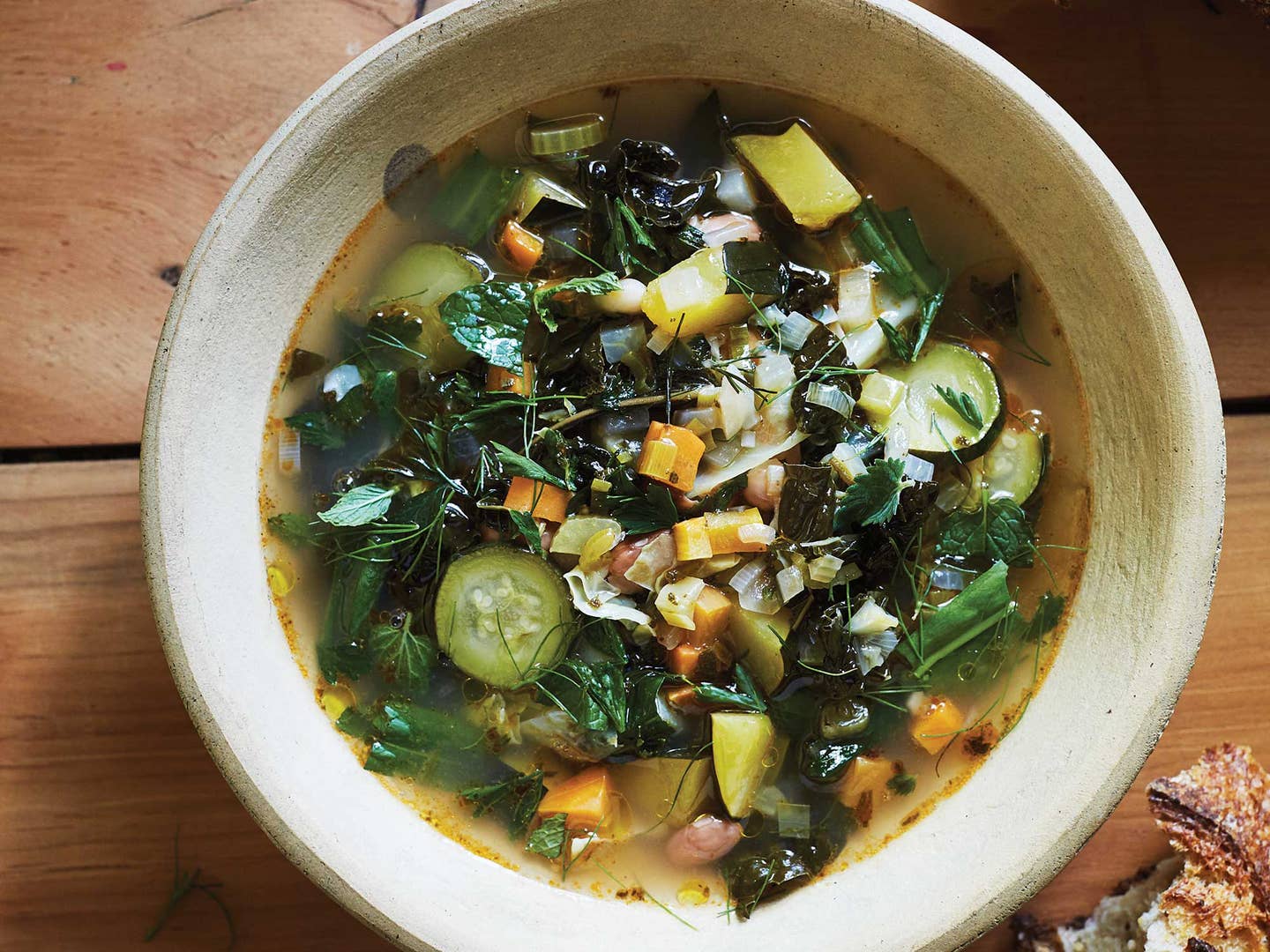 The recipe for this Tuscan vegetable soup comes from chef Elisabetta Gemignani, Borgo La Torre hotel and trattoria in the village of Montecarlo, outside Lucca. Be sure to cook any tougher vegetables long enough that they scomparire (disappear), meaning to cook down. The quantities are flexible, so use whatever you have on hand.
Ingredients
1 cup dried borlotti (cranberry) beans, soaked 6–10 hours, drained
½ cup dried cannellini beans, soaked 6–10 hours, drained
4 garlic cloves, 3 whole, 1 smashed
¼ cup coarsely chopped sage leaves, divided
½ cup extra-virgin olive oil, plus more for garnish
1½ tsp. tomato paste
3 cups coarsely chopped washed kale leaves
5 cups coarsely chopped white cabbage leaves
1 large carrot, peeled and cut into ½-in. cubes
½ medium fennel bulb, cored and thinly sliced
1 celery stalk, coarsely chopped
1 small yellow onion, finely chopped
½ spring onion, thinly sliced
1 small leek, white and pale green parts only, cleaned and thinly sliced
2 cups cubed peeled kabocha or butternut squash
1 small zucchini, sliced ¼ in. thick
Torn herbs, such as peppermint, lemon balm, burnet, and dandelion greens, and fennel fronds
Instructions
Step 1
To a pot set over high heat, add the borlotti and cannellini beans, whole garlic cloves, half of the sage, and 16 cups of water. When the liquid boils, turn the heat to medium-low and cook until the beans are soft but not disintegrating, about 1½ hours. Remove from the heat.
Step 2
To a small pot set over low heat, add the smashed garlic and oil and cook, turning occasionally, until softened, 5–8 minutes. Stir in the tomato paste and remaining sage and cook, stirring occasionally, until the paste has darkened slightly, about 4 minutes. Remove from the heat. Using a slotted spoon, transfer the sage to a cutting board; when cool enough to handle, finely chop it and add it to the pot with the beans. 
Step 3
Use a potato masher or food mill to break down the beans (or leave whole if desired). Stir in the tomato paste mixture, season with salt to taste, and turn the heat to high. When the liquid boils, add the kale; when it boils again, add the cabbage, then turn the heat to medium and cook for 10 minutes. Add the carrot, fennel, and celery and cook for 5 minutes, followed by the onions, leek, squash, and zucchini. Turn the heat to medium-low and cook until all of the vegetables are tender, about 30 minutes. Stir in the herbs and serve hot.