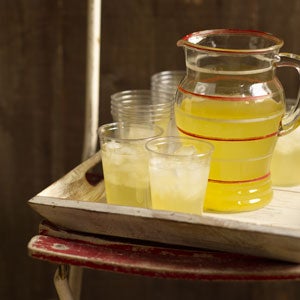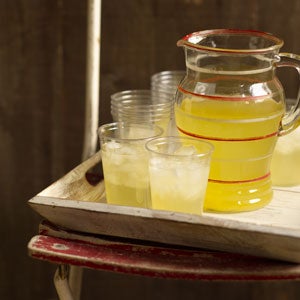 "This recipe dates to before the Civil War," says true southerner Betty Wright. She prepares her fruit punch in large quantities for social gatherings; this is our scaled-down version.
Fruit Punch
This simple punch combines fresh orange and lemon juices with loads of sugar.
Ingredients
3 oranges, halved
3 lemons, halved
1⁄4 cup citric acid, preferably Mrs. Wages
2 tbsp. plus 1 tsp. cream of tartar
4 cups sugar
Instructions
Juice oranges and lemons, discarding seeds and reserving rinds. Set juice aside.
Put reserved orange and lemon rinds into a large bowl, sprinkle with citric acid and cream of tartar, and toss to combine. Pour 2 cups boiling water over rinds and set aside to let steep for 15 minutes. Strain fruit-infused liquid, discarding rinds, and set aside.
Put sugar and 2 cups water into a medium pot and cook over medium heat until the sugar is dissolved. Place sugar syrup aside to let cool.
To make concentrate, combine reserved fruit juices, fruit-infused liquid, and sugar syrup in a 2-quart glass jar with a tight-fitting lid (Wright uses a clean pickle jar). Stir well with a wooden spoon. Cover and refrigerate for at least 2 days and up to 2 weeks before using, to let the flavors come together. When ready to use, mix 1 part fruit punch concentrate with 3 parts water. Serve over crushed ice, if you like. Refrigerate leftover concentrate for up to 2 weeks.