Greek Easter Bread (Tsouréki)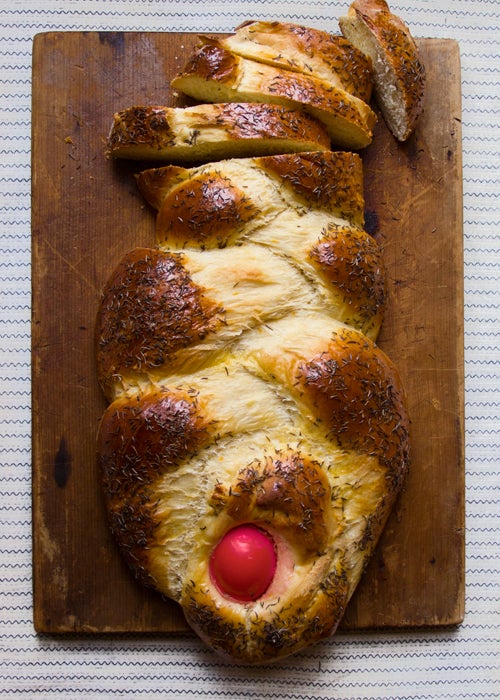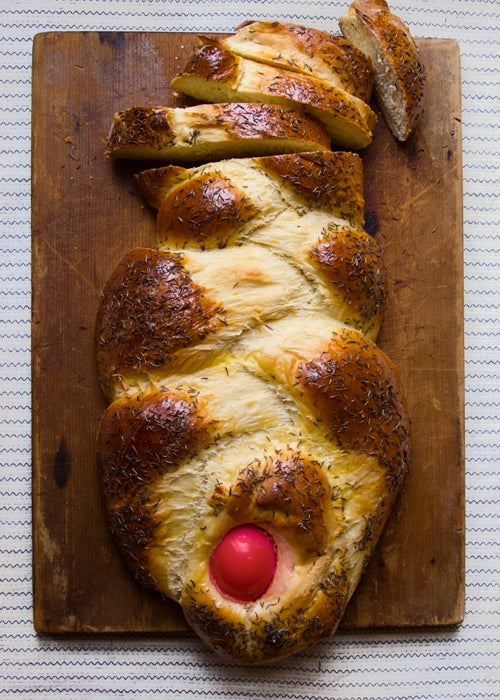 This braided bread, which is probably Byzantine in origin, is traditionally perfumed with the essence of makhlépi, the seeds of Mediterranean wild cherries. Check your local specialty stores for hard-to-find Greek ingredients.
Yield: makes 2 Loaves
Ingredients
2 (7-gram) packets active dry yeast
2 cups warm milk
9-10 cakes flour
1 1⁄2 cups sugar
2 tsp. makhlépi (optional)
8 tbsp. butter, melted and cooled
6 eggs, 1 lightly beaten
Salt
1 tbsp. grated orange zest
1 tbsp. grated lemon zest
2 hard-cooked red-dyed eggs (optional)
2 tbsp. black cumin seeds
Instructions
Dissolve yeast in milk in a large bowl. Stir in 1 cup of the flour and 1⁄2 cup of the sugar, cover bowl with plastic wrap, and set aside for 1 hour. Steep makhlépi, if using, in 1⁄2 cup simmering water for about 5 minutes. Strain, discard makhlépi, and set aside liquid to cool.
Stir 1⁄2 cup water or makhlépi-scented liquid into yeast mixture. Add butter and 5 of the eggs and mix thoroughly. Sift 8 cups of the flour, salt, and remaining 1 cup sugar into mixture. Add orange and lemon zest, and mix thoroughly with a wooden spoon. Turn out dough onto a floured surface. Knead (adding more flour if necessary) until smooth, about 10 minutes, then form into a ball and place in a lightly greased bowl. Cover with a clean dish towel and set aside to rise for 2 hours.
Return dough to floured surface. Divide into 6 parts, rolling into ropes about 15″ long. For each loaf, tightly braid 3 ropes, then press 1 dyed egg (if using) near the end of each braid. Set bread aside to rise again for 1 hour on a lightly greased cookie sheet.
Preheat oven to 350˚. Brush bread with beaten egg, sprinkle with cumin seeds, and bake until golden, 40–50 minutes.