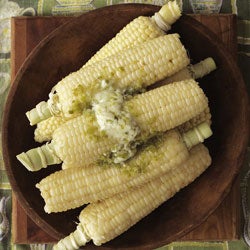 This simple but savory butter was inspired by the father of American gastronomy, James Beard.
Green-Pepper Butter
This butter is great over steamed vegetables, or slathered over corn on the cob
Ingredients
1 roasted green bell pepper, peeled, stemmed, seeded and minced
1⁄2 lb. softened butter
1 clove garlic, peeled and minced
1 pinch cayenne
Salt to taste
Instructions
Mix together roasted green bell pepper, butter, garlic, cayenne, and salt in a bowl. Use immediately or refrigerate for up to a week.