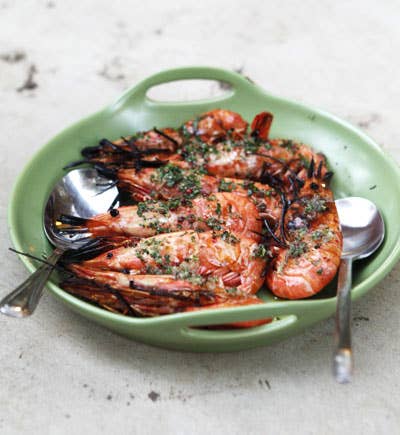 Recipes
Grilled Spot Prawns with Finger Lime and Basil
Spot prawns are so sweet and tasty on their own that they only need a simple sauce, making this finger lime dressing a delightful accompaniment. Guests will be licking the shells and their fingers to get more citrusy crunch and pop from the "lime caviar", and that's what you want. This recipe was developed by chef Mary Sue Milliken of California's Border Grill, and appears with her story from issue #142, It Takes Two: Inside Mary Sue Milliken's Kitchen.
2 lbs. (about 8) Santa Barbara spot prawns or jumbo shrimp, unpeeled and heads on
1/2 cup extra virgin olive oil
1/2 lemon, juiced
1/2 bunch basil leaves, roughly chopped
5 finger limes
Sea salt and freshly ground black pepper, to taste
1. Preheat covered grill or grill pan to medium-high. Using a sharp pair of scissors, cut down the middle of the prawn tail shells to reveal and remove the central vein. Season prawns liberally with sea salt and freshly ground black pepper. Grill about 2 to 3 minutes per side, until just done. Transfer to a platter to rest a few minutes.
2. In a small mixing bowl, combine olive oil, lemon juice, and basil. Cut one end off each finger lime and gently squeeze the tiny juice pellets ("lime caviar") out of the rind into the bowl. Season with sea salt and freshly ground black pepper to taste. Drizzle the dressing over rested prawns and serve immediately.