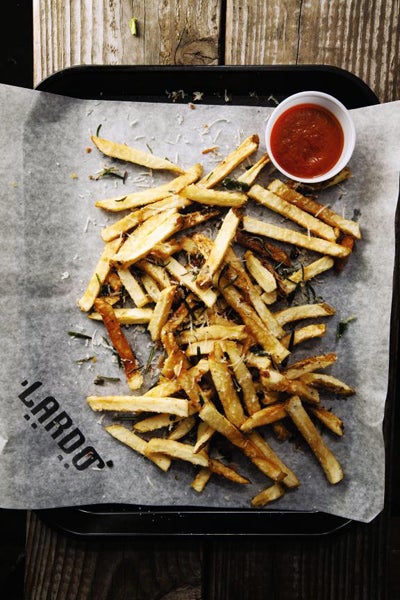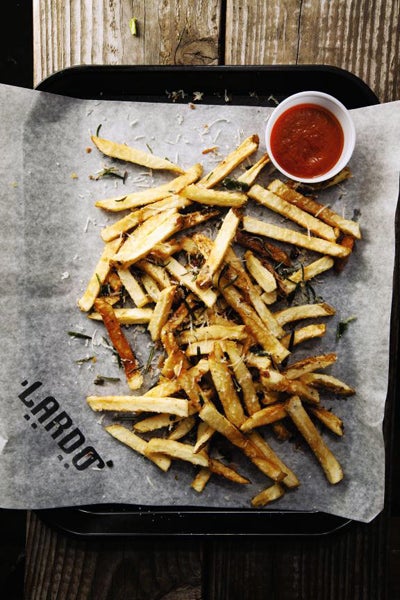 The Portland, Oregon cart Lardo serves these herbed fries with its succulent roast pork sandwiches. This recipe first appeared in our June/July 2012 issue along with Dana Bowen's story Food of the People.
Yield: serves 8
Ingredients
Canola oil, for frying
4 large russet potatoes, cut into 1/4″-thick sticks
1⁄4 cup roughly chopped rosemary leaves
1⁄4 cup roughly chopped sage leaves
2⁄3 cup finely grated parmesan
Kosher salt and freshly ground black pepper, to taste
Instructions
Pour oil to a depth of 2″ in a 6-qt. Dutch oven and heat over medium-high heat until a deep-fry thermometer reads 375°. Add half the potatoes, and cook, turning occasionally and maintaining an oil temperature of 325°, until pale and tender, about 8 minutes. Using a slotted spoon, transfer potatoes to a wire rack set over a baking sheet; repeat with remaining potatoes. Refrigerate potatoes until chilled, about 30 minutes.
Increase oil temperature to 385°. Working in small batches, add chilled potatoes to oil, and cook, stirring, until browned and crisp, about 2 minutes. Using a slotted spoon, return fries to rack set over baking sheet; add rosemary and sage to oil, and fry until crisp, about 45 seconds. Transfer herbs to a paper towel-lined plate to drain, and then place in a bowl along with the fries and parmesan. Toss to combine and season with salt and pepper.