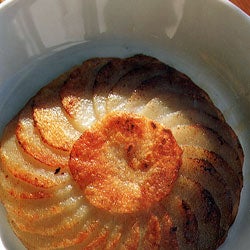 This simple potato dish is marvelous when paired with the richness of wild salmon. Use "floury," or dry, Irish potatoes for an authentic result.
Irish Potato Galette
Simple to prepare, but sophisticated in look and taste, this dish is the perfect accompaniment to any entrée.
Ingredients
1–2 Irish potatoes
1 tbsp. butter
Instructions
Peel and thinly slice potatoes. Press a single slice down into the center of a generously buttered omelette pan as an anchor, then arrange the remaining slices evenly in a single overlapping layer.
Cook, covered, over medium heat for 35 minutes. When the bottom becomes golden brown, turn the galette out onto a plate and serve.