Zaru Soba (Japanese Buckwheat Noodles)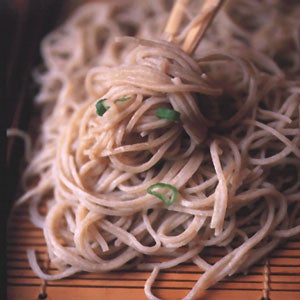 Only one percent of Japanese buckwheat is ground by individual soba makers and the skill required to make these noodles by hand truly makes soba a luxury food. So we leave the noodle-making to the soba shops and use dried soba for this dish, named for the baskets on which it's served.
Yield: serves 4-6
Ingredients
2½ qt. unsalted water
1 lb. dried soba noodles
4-5 cups cold water
Dipping Sauce
Wasabi (optional)
Instructions
Bring unsalted water to a boil in a large pot over medium-high heat. Add soba noodles, stir gently, and reduce heat to medium. Add 1 cup cold water and return to a boil. Repeat procedure, adding 3–4 more cups of cold water, until noodles are cooked through but still quite firm, about 8 minutes.
Reserve 3 cups of the cooking water, then drain noodles in a colander and rinse under cold water. Divide noodles among individual baskets or plates and serve with small dishes of Dipping Sauce.
First taste noodles plain, then dipped into sauce. Serve with wasabi if desired. After eating noodles, re-heat reserved cooking water, ladle into bowls, stir in any remaining dipping sauce, and drink as a soup.