Japanese Pickled Cucumbers (Kyuri Zuke)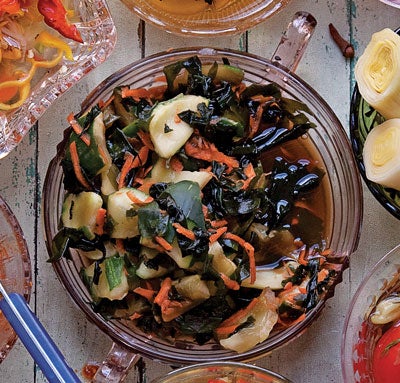 The recipe for this pickle is a version of one described in The Folk Art of Japanese Country Cooking by Gaku Homma (North Atlantic Books, 1991).
Japanese Pickled Cucumbers (Kyuri Zuke)
Dried seaweed gives these quick, zesty pickles an extra boost of flavor; they're a perfect side or condiment to brighten up noodle or rice dishes.
Yield:
makes About 3 Cups
Ingredients
3 Japanese cucumbers or 6 kirbys, halved lengthwise, seeds removed
1⁄3 dried wakame (seaweed), soaked in water for 10 minutes, roughly chopped
3 tbsp. soy sauce
1 tbsp. rice vinegar
1 small carrot, grated
Instructions
Break cucumbers by hand into small bite-size pieces; toss in a large bowl with wakame, soy sauce, vinegar, and carrots. Continue tossing until cucumbers release some of their liquid, 2-3 minutes. Cover with plastic wrap and refrigerate for 15 minutes; serve chilled.