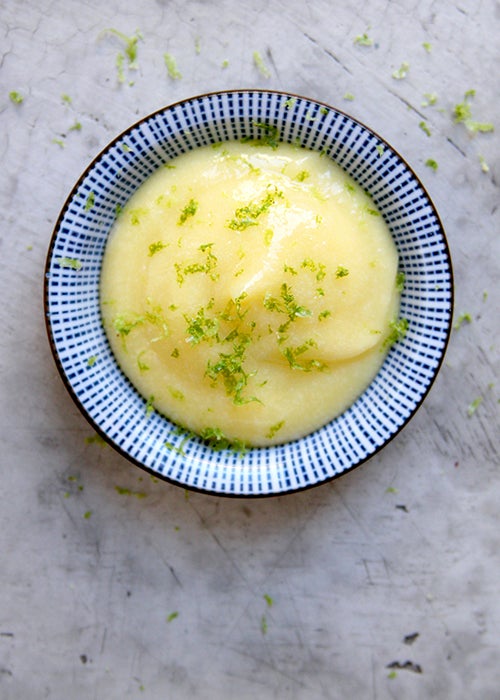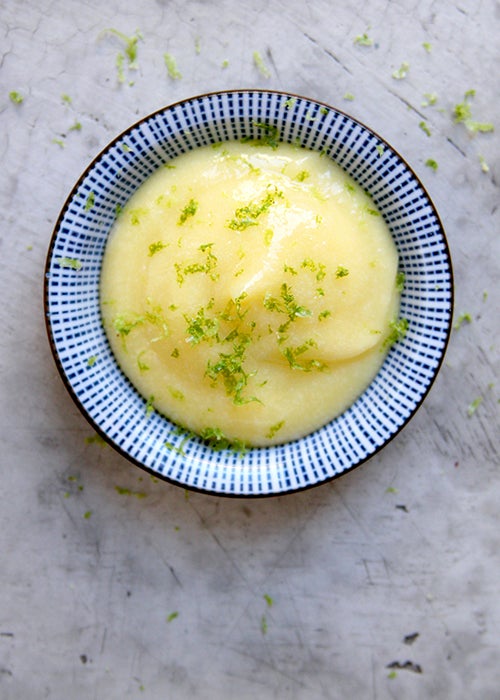 Punchy key lime curd is delicious spread on breakfast toast, dolloped onto cake, or slathered between graham crackers. This recipe comes to us from Karen Solomon, author of the forthcoming Asian Pickles (Ten Speed Press); Jam It, Pickle It, Cure It; and Can It, Bottle It, Smoke It.
Key Lime Curd
Bright, floral key lime juice is a perfect foil for the custardy heft of a classic British-style citrus curd.
Ingredients
1 cup sugar
5 eggs
3⁄4 cup fresh key lime juice, or use Nellie and Joe's Famous Lime Juice
1⁄8 tsp. kosher salt
5 fresh kaffir lime leaves, chopped, or the zest of one key lime (without pith)
7 tbsp. butter, cut into cubes and chilled
Instructions
Whisk together sugar and eggs in a 4-qt. saucepan. Add juice, salt, and leaves; stir until smooth. Place saucepan over medium heat; cook, stirring, until mixture thickens to the consistency of loose pudding, about 10 minutes. Whisk in butter, a few cubes at a time, until smooth. Pour through a fine strainer into a large bowl, and chill. If you like, divide between 3 sanitized 8-oz. glass jars with resealable lids and follow the procedure for Canning with a Boiling Water Bath (process filled jars for 10 minutes).