La Tarte (Vanilla-Rum Custard)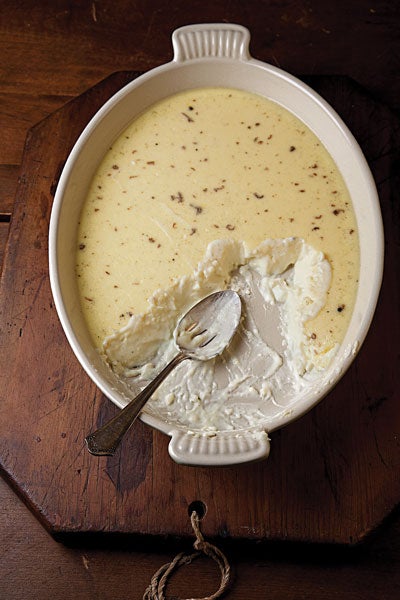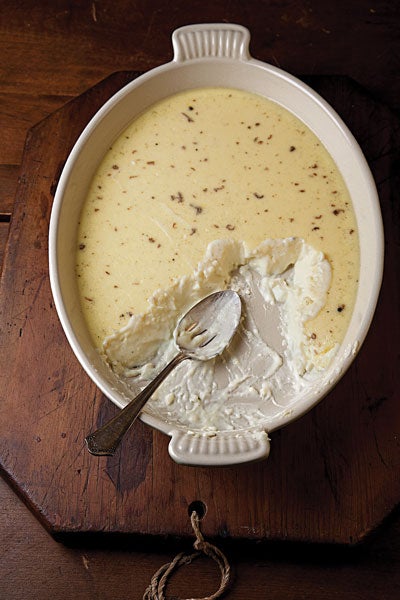 Bake this custard in one big pan or individual ramekins for a rich after-dinner treat. For optimal temperature and texture, take it out of the refrigerator about 10 minutes before serving.
Get seasonal recipes, methods and techniques sent right to your inbox—sign up here to receive Saveur newsletters. And don't forget to follow us on Instagram at @SaveurMag.
Equipment
La Tarte (Vanilla-Rum Custard)
Scented with vanilla bean and light rum, this silky, crowd-pleasing custard dessert is astoundingly simple to make.
Ingredients
3⁄4 cup sugar
1⁄2 tsp. kosher salt
4 eggs, beaten
1 vanilla bean, seeds scraped and reserved
4 cups heavy cream
5 tbsp. light rum
Instructions
Heat oven to 300°. In a bowl, whisk together sugar, salt, eggs, and vanilla. Whisk in cream and rum. Transfer mixture to a 3-qt. baking dish; set inside a roasting pan. Put pan on oven rack; pour boiling water into pan to come halfway up sides of dish. Bake until slightly loose in center, 40–50 minutes. Remove dish from pan; chill until set.