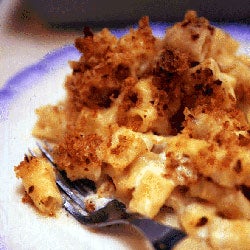 This grown-up version of a childhood favorite is a great way to satisfy that deep-seated yearning for melted cheese.
Macaroni and Cheese
This American classic is one of the most popular comfort foods we crave.
Ingredients
8 tbsp. butter
6 tbsp. flour
1⁄2 tsp. cayenne pepper
Salt and freshly ground white pepper
3 3⁄4 cups hot milk
4 cups grated cheddar cheese
1 lb. short macaroni, cooked
1⁄2 cup heavy cream
1⁄2 cup fresh bread crumbs
Instructions
Preheat oven to 350°. Melt 6 tbsp. butter in a medium stainless-steel saucepan over low heat. Add flour and cook, stirring constantly, for about 4 minutes (flour mixture must foam as it cooks, or sauce will taste of raw flour). Stir in cayenne and season to taste with salt and pepper. Whisk in hot milk, ½ cup at a time, and cook, stirring, until sauce thickens. Reduce heat to low and stir in 2 cups of cheese. Cook, stirring, until cheese melts, about 2 minutes.
Combine pasta and sauce in a large bowl, and season with salt. Sprinkle ½ cup cheese over the bottom of a buttered 8″ × 11″ baking dish. Place one-third of the pasta in the baking dish, top with ½ cup of cheese, then repeat, layering pasta and cheese, ending with cheese, making three layers in all.
Pour cream over assembled macaroni and cheese. Melt remaining butter in a skillet. Add bread crumbs, coat with melted butter, and sprinkle over macaroni and cheese. Bake until crust is golden, about 30 minutes. Allow to rest for 15 minutes before serving.