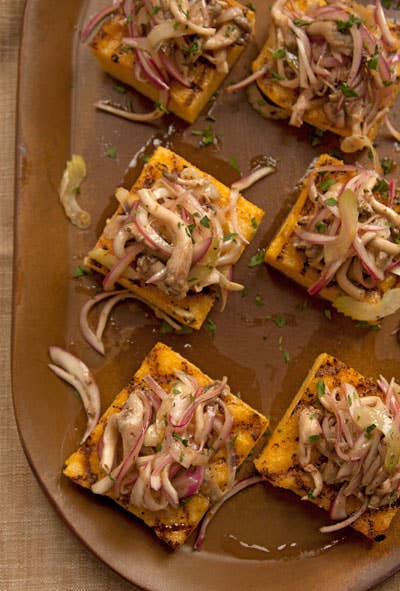 Recipes
Marinated Mushroom and Onion Salad
Mushrooms, onion, and celery maintain their pleasant bite in this salad marinated in a tart, boiled mustard dressing. The longer it sits and soaks, the better it tastes.
12 oz. roughly chopped mushrooms (any variety you have)
1 small red onion, thinly sliced lengthwise
1 rib celery, very thinly sliced diagonally
¼ cup white wine or champagne vinegar
¼ cup extra-virgin olive oil
¼ cup chicken or vegetable stock
1 tbsp. Dijon mustard
1 tbsp. honey
1 tsp. dried oregano
¼ tsp. cayenne
Zest of 1 lemon
Kosher salt and freshly ground black pepper, to taste
½ cup roughly chopped parsley
1. Place mushrooms, onion, and celery in a medium bowl; set aside.
2. Bring vinegar, oil, stock, mustard, honey, oregano, and cayenne to a boil in a small saucepan; remove from heat and stir in zest and salt and pepper. Pour over mushroom mixture and toss to coat evenly; cover bowl with plastic wrap and let sit at room temperature until ingredients are completely cool, about 1 hour. Sprinkle with parsley and serve. (You can also store this salad in the refrigerator overnight before serving, if you like.)