Marinated Sardine Crostini with Salsa Verde and Fennel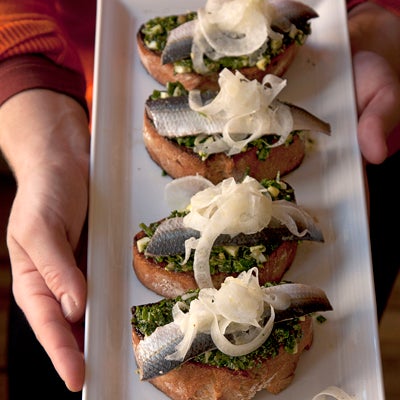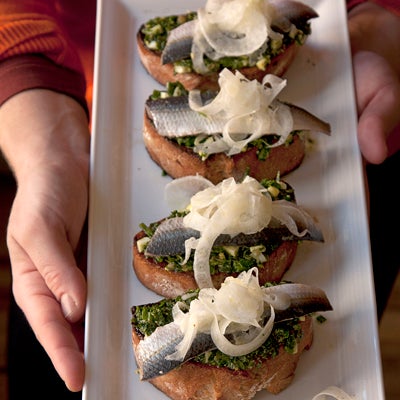 Chef Tony Mantuano, of Chicago's Spiaggia, combines the tangy flavors of tarragon and chive salsa verde with a zesty lemon and fennel salad in this marinated sardine crostini.
Yield: serves 8
Ingredients
For the Salsa Verde
1⁄2 cup minced fresh tarragon
1⁄2 cup minced fresh chives
1⁄3 cup minced fresh flat-leaf (Italian) parsley
1 hard-boiled egg, peeled and chopped
1⁄2 tsp. Dijon mustard
1⁄3 cup extra-virgin olive oil
1 1⁄2 tbsp. capers, rinsed, drained, and chopped
For the Sardines and Serving
4 fresh sardines, deboned and filleted
1⁄2 cup extra-virgin olive oil
1 cup fresh orange juice
1⁄2 cup white wine vinegar
1 bulb fennel, trimmed
Juice of a 1/4 lemon
Sea salt and freshly ground pepper, to taste
8 (1″-thick) slices ciabatta bread, halved
Instructions
For the salsa verde: In a medium bowl, combine the tarragon, chives, parsley, egg, mustard, olive oil, and capers. Stir to mix thoroughly and let stand for at least 1 hour to allow the flavors to blend. The sauce can be made ahead and refrigerated for up to a week.
For the sardines: Lightly salt the sardines and let stand for 10 minutes. In a bowl, whisk together the olive oil, orange juice, and vinegar. Put the sardines in a shallow dish and pour the marinade over. Marinate for 30 minutes. Remove sardines from the marinade and lightly pat dry. Set aside until ready to use.
For the fennel salad: Using a mandolin, thinly shave the fennel into a medium bowl. Dress with lemon juice and season to taste with salt and freshly ground pepper.
For the crostini: Lay out the slices of ciabatta on a cookie sheet. Toast under the broiler until brown, about 1 minute. Flip the slices over and repeat. Remove from the oven. Alternatively, you can grill the bread over an open flame.
To assemble: Spread a teaspoon of salsa verde onto each crostini. Top with a sardine fillet and some shaved fennel salad. Serve immediately.