Sopa Fría de Aguacate (Chilled Avocado Soup)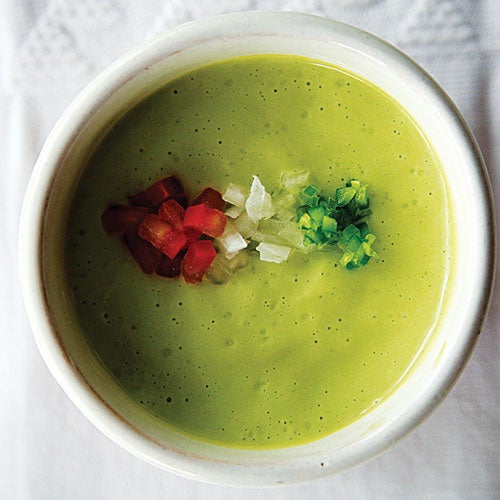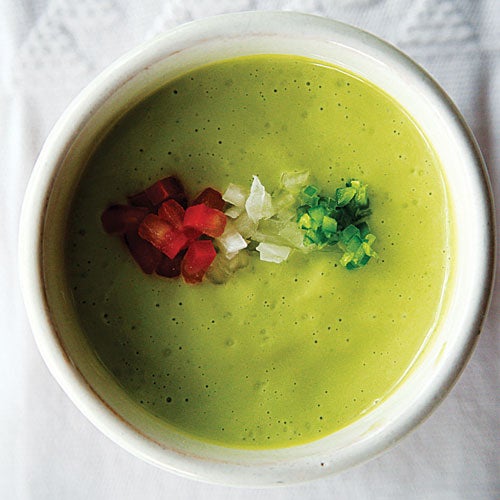 Brightened with chiles and lime juice, this silky avocado soup gets an added dose of richness from heavy cream. This recipe first appeared in our August/September 2012 issue with Patricia Quintana's article Soup Country.
Yield: serves 6-8
Ingredients
4 serrano chiles, stemmed, seeded, and finely chopped
2 large ripe avocados, pitted, peeled, and roughly chopped
1 medium white onion, finely chopped
6 cups chicken stock
1 cup heavy cream
1⁄3 cup fresh lime juice
Kosher salt and freshly ground black pepper, to taste
2 plum tomatoes, cored, seeded, and finely chopped
Instructions
Combine half the serrano chiles, the avocados, and half the onion in a food processor, and process until a smooth paste forms. Add stock, cream, and lime juice, and puree until very smooth. Pour through a fine strainer into a bowl or pitcher, and season with salt and pepper; cover and refrigerate until chilled, at least 2 hours.
To serve, divide soup among serving bowls and top with a spoonful each of remaining chiles and onion, along with the tomatoes.