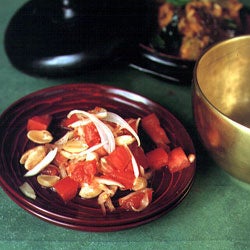 Served as a snack in Madras, India, this unique salad is both spicy and acidic. We adapted this recipe by adding cilantro and suggest adjusting the cayenne to suit your taste.
Munchable Peanut Salad
Spicy, spicy, spicy—this Indian snack from Madras will awaken all your senses.
Ingredients
1 1⁄2 cups raw peanuts, shelled and skinned
1 tsp. salt
3-4 small shallots, peeled and slivered
2 medium tomatoes, finely chopped
2 1⁄4 tsp. cayenne
4 tbsp. lime juice
3 tbsp. fresh cilantro, coarsely chopped
Instructions
Place peanuts in a small saucepan with water to cover. Add salt and bring to a boil over medium heat. Cover, reduce heat, and cook until tender, about 20 minutes. Drain, then place peanuts in a bowl.
Add shallots, tomatoes, cayenne, lime juice, and cilantro. Stir to mix well. Add salt to taste, for a balanced flavor of saltiness and sourness.