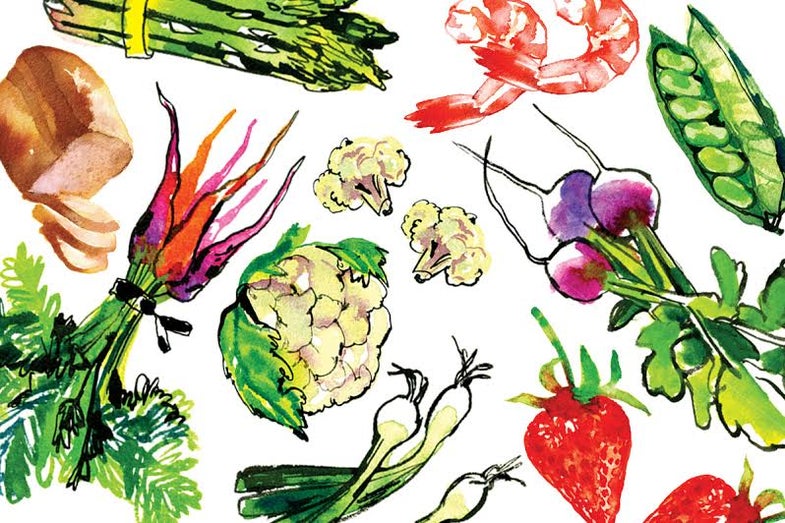 Cook Velma Willett, who sometimes makes this cobbler with a combination of fresh and canned peaches, likes to serve her home-made vanilla ice cream on the side, not on top, "so you don't ruin all that crunchy crust."
Peach Cobbler
This recipe calls for canned peaches but you can substitute fresh when in season.
Ingredients
2 (29-oz.) cans pitted peach halves in syrup, drained and sliced
1 cup plus 1 Tbsp. sugar
1 Tbsp. cornstarch
2 cups flour
1⁄2 cup lightly packed light brown sugar
12 Tbsp. margarine, cut into pieces
1⁄2 tsp. ground cinnamon
Instructions
Preheat oven to 375°. Put peaches and 1⁄2 cup of the sugar into a medium saucepan and bring to a boil over medium-high heat. Meanwhile, mix together cornstarch and 2 tbsp. water in a small bowl, then add to peaches and cook, stirring, for 1 minute. Transfer peaches and thickened juices to an 8" x 8" baking dish, and set aside.
Sift together flour, 1⁄2 cup of the sugar, and the light brown sugar in a medium mixing bowl. Using a pastry cutter or two knives, work margarine into flour until it resembles coarse meal. Spread topping evenly over peach filling and pat down firmly with the palms of your hands and your fingers, smoothing out the top. Sprinkle topping with the remaining tbsp. of sugar and the cinnamon.
Bake cobbler in oven until crust is golden brown and filling bubbles, about 40 minutes. Set aside to cool briefly before serving with whipped cream or ice cream (on the side), if you like.