Recipes
Polkagriskola (Swedish Peppermint Caramels)
These buttery Scandinavian chews are a sweet and worthy addition to the traditional Christmas feast.
Serves

Makes 70 pieces

Cook

1 hour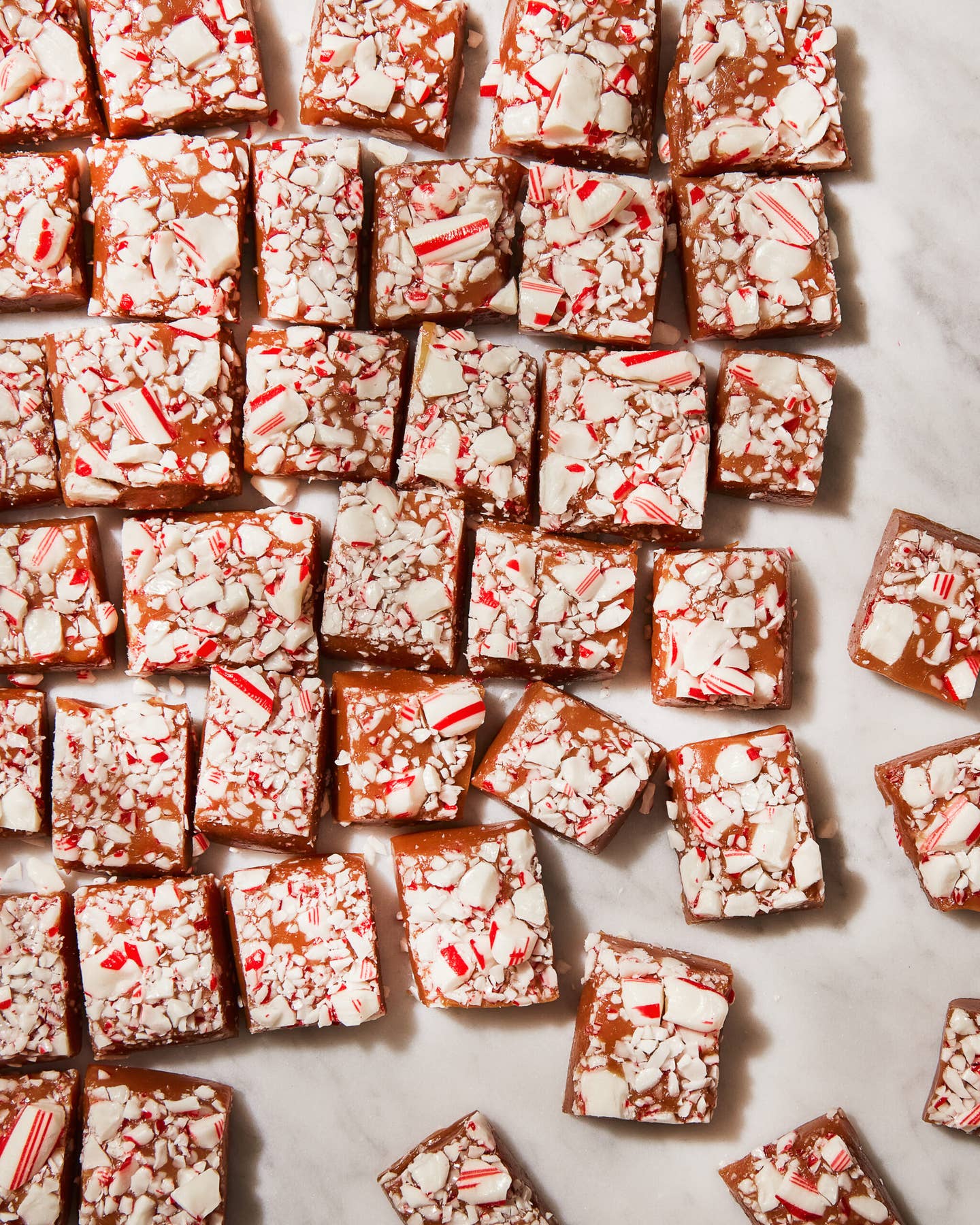 These bite-sized, chewy candies topped with crushed peppermints are one of many versions of kola, a semisoft toffee-like confection adored throughout Sweden. This version ran alongside Rebecca Fisher's 2009 article, "Swedish Desserts for Christmas."
Ingredients
Nonstick baking spray
1¼ cup heavy cream
1 cup sugar
¼ cup plus 2 Tbsp. golden cane syrup (such as Lyle's) or dark corn syrup
3 Tbsp. honey
Pinch of kosher salt
3 Tbsp. unsalted butter
4 oz. hard peppermint candies (about 9 candy canes), finely crushed
Instructions
Step 1
Line the bottom of an 8- by 8-inch cake pan with parchment paper; grease parchment paper generously with nonstick cooking spray and set aside.
Step 2
In a medium pot, stir together the cream, sugar, golden cane syrup, honey, and salt, then bring to a boil over medium heat, stirring gently until the sugar dissolves, about 5 minutes. Attach a candy thermometer to the side of the pan and cook, without stirring, until the mixture reaches 250°F, 25–30 minutes. Remove the pan from the heat, add the butter, and using a wooden spoon, stir vigorously until smooth, about 3 minutes.
Step 3
Pour the hot candy onto the prepared cake pan and sprinkle evenly with the crushed peppermint candy, pressing lightly into the caramel with the back of an offset spatula or spoon. Set aside to cool to room temperature.
Step 4
When fully cooled, use the parchment paper to lift the candy out the pan and transfer to a large cutting board. Cut into bite-sized squares and serve immediately or transfer to an airtight container and store in a cool, dry place.. These peppermint caramels keep well for up to 4 weeks.