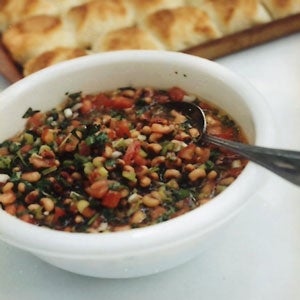 This recipe can be served as a salad or a side dish.
Poor Man's Caviar
Served cold, this colorful dish combines black-eyed peas, red and green bell peppers, scallions, and tomatoes.
Ingredients
2 (15-oz.) cans of black-eyed peas
8 scallions, trimmed and chopped
1 green bell pepper, seeded and finely diced
1 red bell pepper, seeded and finely diced
1 large tomato, cored and diced
1⁄4 cup chopped cilantro
1 (16-oz.) bottle of spicy Italian salad dressing
Instructions
Drain peas well, discarding the liquid, and transfer peas to a large bowl. Add scallions, peppers, tomatoes, cilantro, and salad dressing and toss to combine.
Cover with plastic wrap and refrigerate for 3 hours or overnight, to allow the flavors to come together. Serve cold or at room temperature.