Quesadillas with Pecorino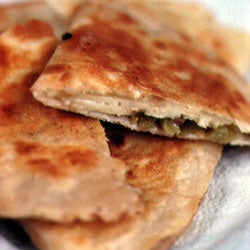 This recipe for this snack calls for Bellwether Farms pecorino, but monterey jack is good too.
Quesadillas with Pecorino
This quick, delicious snack is sure to satisfy any craving for something cheesy.
Ingredients
2 tsp. butter
1 flour tortilla
4 thin slices of cheese; preferably Bellwether Farms pecorino
2 tsp. diced canned green chiles
Instructions
Melt butter in medium skillet over medium heat. Place tortilla in skillet and quickly lay cheese over half of it. Sprinkle on green chiles and fold tortilla over.
Cook until golden, about 30 seconds per side, turning once. Cut into 4 wedges and serve immediately.