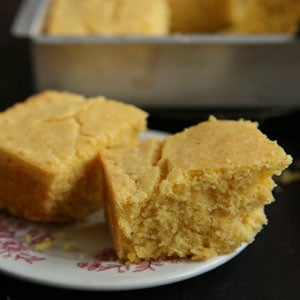 While growing up in Texas, Randy Evans, chef at Brennan's in Houston, ate this corn bread as an accompaniment to creamed Southern peas, along with slices of fresh tomato and sweet onion.
Randy Evans's Corn Bread
This corn bread is best eaten with Southern peas and slices of fresh tomato and sweet onion.
Ingredients
1 1⁄3 cups flour
2⁄3 cup cornmeal
1⁄2 cup corn flour (masa harina)
5 tsp. baking powder
1⁄2 tsp. fine sea salt
1 1⁄3 cups milk
12 tbsp. butter, melted, plus 1 tbsp. for greasing
4 eggs, lightly beaten
Instructions
Heat oven to 375º. In a large bowl, sift together flour, cornmeal, corn flour, baking powder, and salt. In another bowl, combine the milk, butter, and eggs.
Pour the wet ingredients over the dry ingredients; whisk until combined. With the remaining butter, grease an 8″-square aluminum baking pan. Pour in mixture.
Bake until a toothpick inserted in the center comes out clean, about 25 minutes. To serve, cut into 6 large squares.