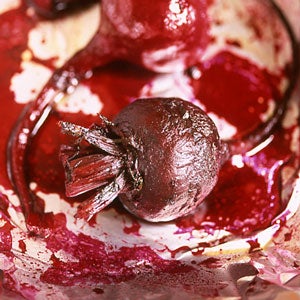 Pull off stalks and slip off skins easily after cooking these earthy, sweet gems.
Yield: serves 4
Time: 2 hours 30 minutes
Ingredients
12 medium beets
3 tbsp. olive oil
Kosher salt, to taste
Instructions
Preheat oven to 350°. Trim all but 2-inches of stalks off the beets. Wash beets; then, while still wet, put into a baking dish lined with a large piece of foil.
Drizzle with olive oil and season to taste with salt. Fold foil to seal completely shut. Roast beets until soft (pierce through foil to check for doneness), 2–2 1⁄2 hours. Unwrap and serve.