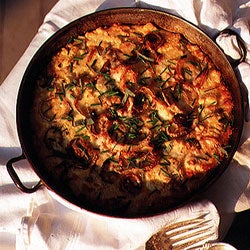 Grilling is our favorite way to cook corn, adding a new dimension of flavor, but boiled corn works well in this recipe, too.
Roasted Corn Custard
Grilling corn takes a little extra effort, but it creates a beautifully complex flavor.
Ingredients
6-8 ears fresh corn, unhusked
3 tbsp. butter
1 yellow onion, peeled and thinly sliced
3 eggs
1 cup heavy cream
1⁄2 cup milk
1⁄2 tsp. nutmeg
Salt and freshly ground black pepper
2 tbsp. chopped fresh chives
Instructions
Submerge unhusked corn in cold water and soak at least 1 hour. Arrange on a medium-hot grill. Cook covered, turning several times, for about 20 minutes. Peel back the husks a bit to see if kernels are tender. Set aside.
Melt 2 tbsp. of the butter in a skillet over medium heat. Add onions and cook until tender.
Preheat oven to 350°. Remove corn husks and cut kernels from cobs. Lightly beat eggs, cream, milk, nutmeg, and salt and pepper to taste in a large bowl. Stir in corn. Pour mixture into a buttered baking dish; arrange onions on top. Bake until custard is set, about 30 minutes. Garnish with chives and serve.