Recipes
Roasted Eggplant with Goat Cheese, Tahini, and Pine Nuts
Serves

makes ABOUT 2 DOZEN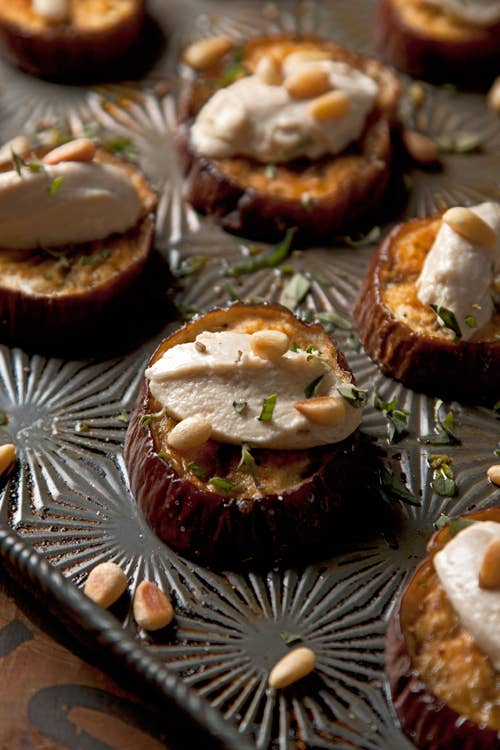 These one-bite hors d'oeuvres are inspired by the ingredients of a classic Middle Eastern baba ganoush. Serve them hot from the oven or made ahead and chilled.
Ingredients
2 medium Japanese eggplants, sliced crosswise 1/2" thick
3 tbsp. olive oil
1⁄2 tsp. paprika
Kosher salt and freshly ground black pepper, to taste
4 oz. goat cheese, softened
1⁄4 cup tahini
1 1⁄2 tbsp. fresh lemon juice
1 tbsp. honey
2 tbsp. pine nuts, toasted, for garnish
2 tsp. finely chopped oregano, for garnish
Instructions
Step 1
Heat oven to 425°. Place eggplant in a single layer on a parchment paper-lined baking sheet. Combine oil and paprika in a bowl, brush about 2 tbsp. over eggplant, and sprinkle with salt and pepper. Bake, turning once, until golden, about 20 minutes; set aside.
Step 2
Combine cheese, tahini, juice, honey, salt, pepper, and 1⁄4 cup water in a bowl. Top each round with 1-2 tsp. cheese mixture and drizzle with remaining oil. Garnish with toasted pine nuts and oregano.