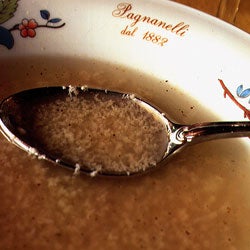 The Italian name for this soup, stracciatella, is derived from the fact that the eggs take on the appearance of straccetti , or little rags.
Roman Egg-Drop Soup
As the eggs are whisked into the stock base for this soup, they take on the appearance of little rags, or _straccetti,_; hence the Italian name for this dish: Straciatella.
Ingredients
8 cups chicken stock
2 eggs
1⁄2 cup grated parmigiano-reggiano
2 tbsp. chopped fresh flat-leaf parsley (optional)
Fresh lemon juice
Salt and freshly ground black pepper
Instructions
Bring stock to a boil over medium-high heat, then reduce heat to medium-low and simmer.
Beat eggs in a mixing bowl and add parmigiano-reggiano (and, if desired, parsley).
Slowly pour egg mixture into stock, stirring with a whisk. The faster you stir, the finer the pieces of egg. Season to taste with lemon juice and salt and pepper.