Recipes
Sautéed Frogs' Legs Recipe (Cuisses de Grenouille à la Provençale)
Make this well known frog legs recipe in your own kitchen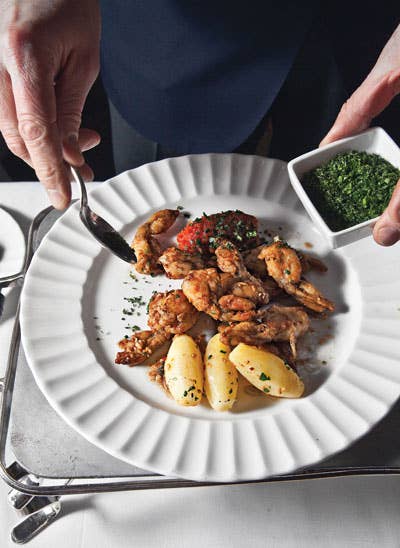 This is a version of the signature dish served at La Grenouille, the famed French restaurant in New York City.
Ingredients
12 pairs of frogs' legs (about 12 oz.), fresh or frozen and thawed
1 1⁄2 cups milk
Kosher salt and freshly ground pepper
1 cup flour
16 tbsp. clarified butter
2 cloves garlic, finely chopped
1 tbsp. fresh lemon juice
1 tbsp. finely chopped fresh parsley
Instructions
Step 1
Snip apart each pair of frogs' legs. Combine frogs' legs and milk in a bowl and refrigerate for 30 minutes. Transfer legs to paper towels, pat dry, and season generously with salt and pepper. Put flour on a plate and, working in batches, coat legs with flour, shaking off excess, and transfer to another plate.
Step 2
Heat 6 tbsp. butter in a 12" skillet over high heat until sizzling. Add half of the frogs' legs and cook, flipping once, until golden brown, 3–4 minutes. Transfer legs to a plate and set aside; wipe out skillet; repeat with 6 more tbsp. butter and remaining legs. Discard butter in skillet; then add remaining butter and the garlic and cook, swirling constantly, until mixture is fragrant and garlic is lightly browned, about 1 minute. Remove skillet from heat, add lemon juice, and season with salt and pepper. To serve, place frogs' legs in the center of a serving plate, drizzle sauce around edge of plate, and garnish with parsley. Serve with sautéed potatoes and tomatoes, if you like.