Recipes
Sedano e Pomodori Brasati (Braised Celery and Tomato)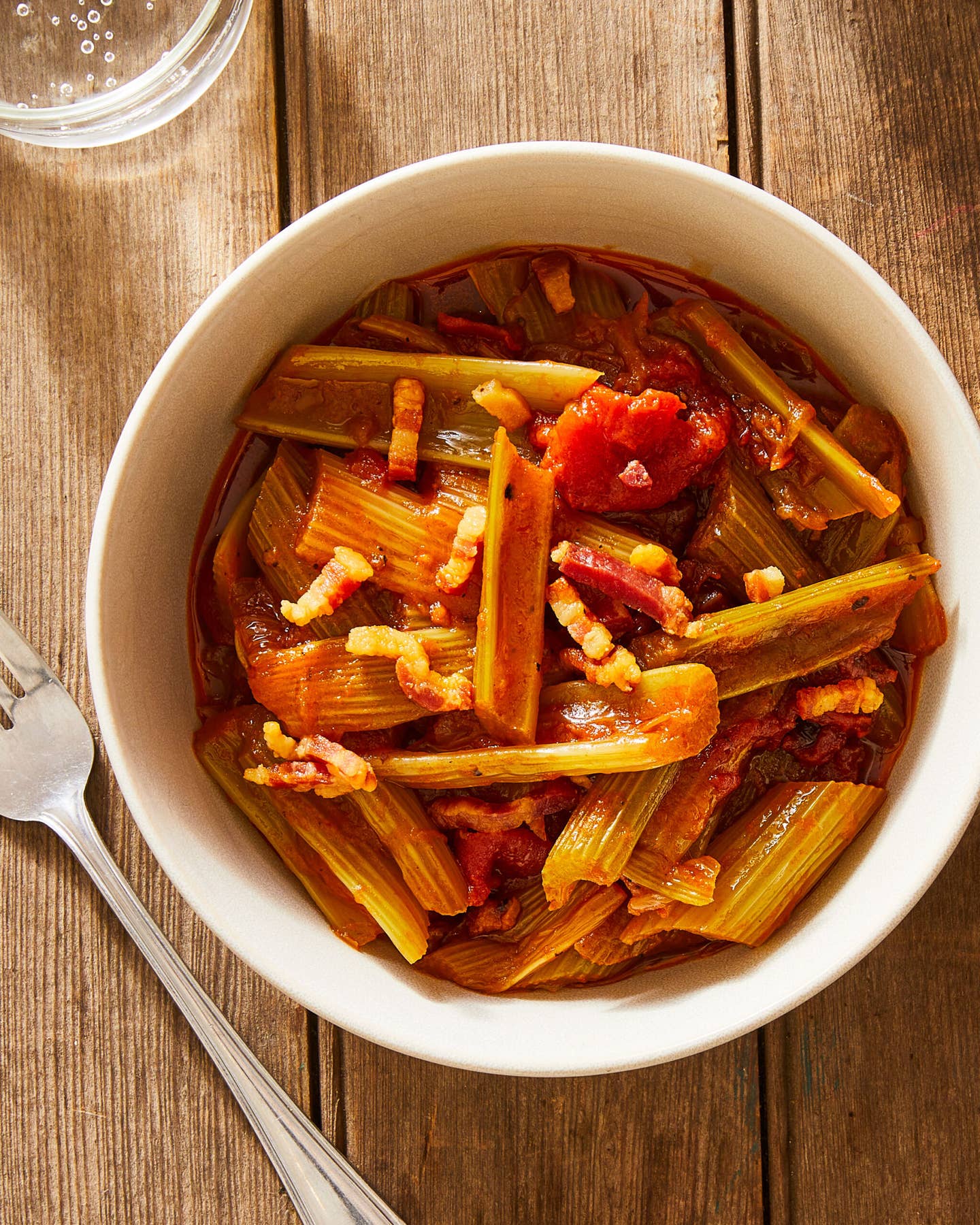 This recipe, adapted from one in Marcella Hazan's Essentials of Classic Italian Cooking (Alfred A. Knopf, 1992), produces results that are surprising from celery: creamy, sweet, luscious. The stalks' stringy fibers, often removed before cooking, here act as a brace to help the vegetable keep its shape through a long simmer. This recipe first appeared in our October 2011 issue along with Lesley Porcelli's story The Soft Approach.
Ingredients
3 oz. pancetta, cut into 1″ matchsticks
1⁄4 cup extra-virgin olive oil
1 large yellow onion, cut in half, cored, and very thinly sliced
2 lb. celery stalks, trimmed and diagonally cut into 2" lenghts
3⁄4 cup whole, peeled canned tomatoes with juice, crushed by hand
Kosher salt and freshly ground black pepper, to taste
Instructions
Step 1
Put pancetta in a 6-qt. saucepan and place over medium-high heat. Cook, stirring occasionally, until its fat renders, about 12 minutes. (If the pancetta begins to brown too fast, reduce the heat to medium-low.) Using a slotted spoon, transfer the pancetta to paper towels to drain, and set aside.
Step 2
Add the olive oil to the pan, and return to medium-high heat. Add the onion, and cook, stirring occasionally, until soft and light brown, about 10 minutes. Add the celery, tomatoes, and 1⁄4 cup water, and season with salt and pepper. Cover pan with lid, and cook, stirring occasionally, until celery is very tender, about 1 1⁄2 hours.
Step 3
Divide the celery with its juices between serving bowls, and sprinkle with the reserved pancetta. Serve hot or at room temperature.