Recipes
Succotash
Our go-to take on the classic lima bean and corn salad comes from the late, great Sheila Lukins.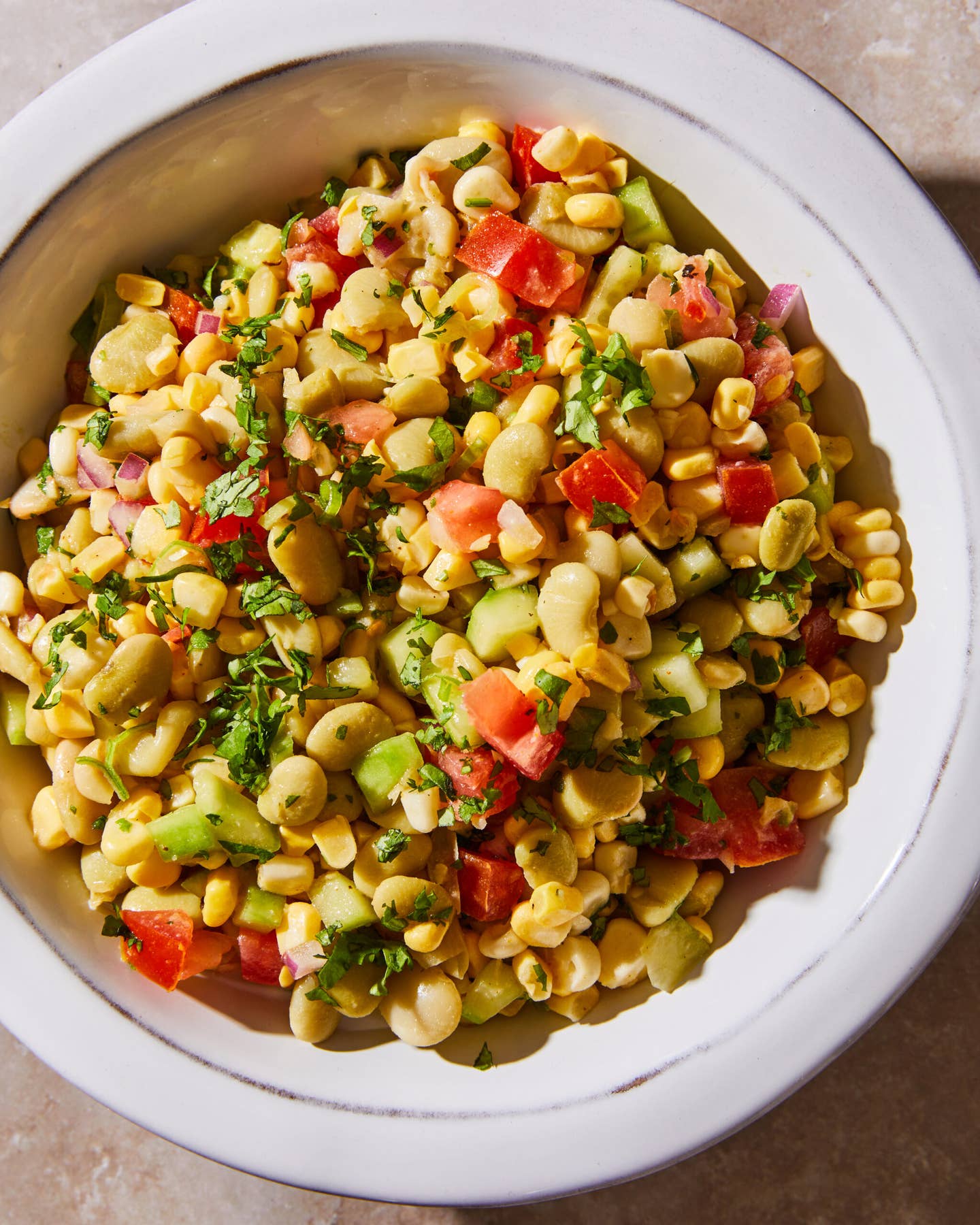 The late Sheila Lukins, co-founder of the Silver Palate empire that included a food shop and cookbook line-up, gave us a bright variation on an old theme with this unusual succotash recipe. A plant-based dish with Indigenous roots, succotash is usually made from a base of lima beans, corn, and other vegetables. Lukins's tart, spiced version adds apple cider vinegar, Dijon mustard, and curry powder, which play up the natural sweetness in a medley of summer veggies.
Fresh lima beans that come to market in late summer are especially nice here, but frozen beans, simmered for about 15 minutes, are a fine substitute.
This recipe originally ran in our May/June 1995 print issue.
Ingredients
2 Tbsp. apple cider vinegar
½ tsp. Dijon mustard
½ tsp. sugar
⅛ tsp. curry powder
1 garlic clove, very finely chopped
3 cups cooked baby lima beans
3 cups fresh corn kernels, boiled for 5 minutes and drained
1 cup peeled, seeded, finely chopped cucumber
¼ cup finely chopped red onion
2 plum tomatoes, seeded and finely chopped
1 scallion, ends trimmed, finely chopped
3 Tbsp. olive oil
Kosher salt and freshly ground black pepper
2 Tbsp. finely chopped cilantro
Instructions
Step 1
In a large bowl, whisk together the vinegar, mustard, sugar, curry powder, and garlic. Slowly drizzle in the oil, whisking constantly. Add the lima beans, corn, cucumber, onion, tomatoes, and scallion and toss to coat. Season with salt and black pepper and refrigerate until cold. Just before serving, garnish with the cilantro.